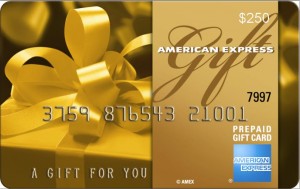 In this post, we're going to tell you how to check your American Express Gift Card balance quickly and easily.
For those short on time, you can check your Amex Gift Card Balance in two simple steps:
With your card handy, visit this American Express page.
Enter your American Express Gift Card number to get your balance.
This how-to post was inspired by Barbara who emailed us the following:
I have a question for your how to site. I received an American Express gift card for the holidays in the amount of $250 and I have been spending it in bits and pieces over the last 20 days. My question is this: Is there a way that I can determine my American Express Gift Card balance? Right now, I have no idea what the balance is and I don't want to purchase something with the card and then get declined. Any kind thoughts? Thanks!Barbara, Ohio
Amex Gift Card: Your Balance is…
Barbara, thanks for the question. We know exactly how you feel not wanting to get your gift card declined–nobody wants that!
Fortunately, American Express has their own webpage dedicated to determining the balance remaining on your card. In fact, I also received an Amex Gift card recently (I think gifts cards are a great idea for the right person) and I will tell you exactly how to get your balance on the card. And, they not only tell you what your balance is…they tell you everything that you've spent your money on.
Which begs the question…can the person who gave you your Amex gift card see this information too? Well, if they wrote down the information on the card before they gave it to you, the answer is "yes". So, before you use that gift card that your boss gave you to buy something untoward, remember that they too (if they're the snooper type!) can see the information.
But Barbara, that probably won't happen to you so let's forget about it and get you to the answer.
First, make sure that you have your American Express Gift Card handy and then visit this American Express page. American Express seems to have several links to check your remaining money but this one was by far the best.
You will be prompted for the information that you see in the photo below:
Now, take a look at your card and fill in the information. As you may have already seen, they will also require you to put in the 3 digit security card which you can find on the back. I'm going to do check my gift card balance along with you right now. Here is what I see:
Barbara, here you should see how much is remaining plus all of the transactions made on the card. As you can see, you are also able to search by date. Like they do with most of their businesses, Amex does their gift card very professionally.
Barbara, I hope this has helped you figure out how to get that Amex balance. Hopefully, you have a lot of money left on the card and can buy a lot more stuff.
Sadly, for me, I have just realized that I only have $15.72 out of $250 left on my Amex gift card…but I have a birthday coming soon 🙂

Richard Cummings is a writer, traveler, and web content developer. He creates fun, informative how to articles for this site and exercises his creative writing prerogative at ARichIdea.com.

Get your copy of his latest book entitled Obvious Conclusions, stories of a Midwestern emigrant influenced and corrupted by many years living in San Francisco and abroad. It just received its first outstanding review "...reminiscent of David Sedaris or Augusten Burroughs" on Amazon UK.

Latest posts by Richard Cummings (see all)