In this article, we will tell you how to contact President Obama. You can contact President Barack Obama in many ways. We will let you know the president Obama email address so that you can email president Barack Obama and also give you other ways to contact president Obama.
It would be fair to say that without the Internet Barack Obama would not be President of the United States. He leveraged the medium of the Internet to organize his campaign, gather contributions, rally his base, convey his ideas, and gain many new supporters. These Internet activities ushered him into the Whitehouse.
Thus, when we look at how to contact president Obama, the Internet is the most logical conclusion; however, it is not the only option.
In this article, we will look at all of the various ways that you can contact President Barack Obama.
Email President Barack Obama
The best way to get in touch with President Barack Obama is through email. Historically, people have emailed the president–any president–using the general presidential email address which is as follows: president@whitehouse.gov.
However, the Barack Obama administration, given their Internet savvy, has revised the process a little bit. Though the official president Obama email address is still president@whitehouse.gov, it is not the best way to contact him.
The best way to contact President Obama is through the contact form at WhiteHouse.gov. The top of the form looks like this: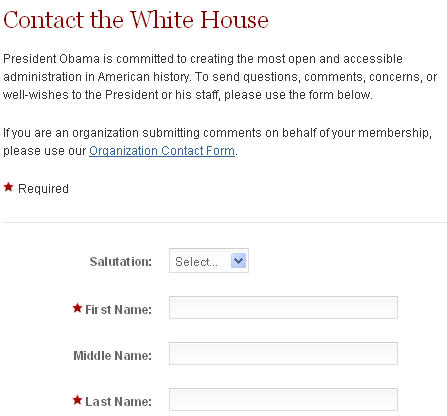 In the past, this form only permitted a limit of 500 characters. However, now you can include up to 2,500 characters which allows you to express your ideas more thoroughly.
Does Barack Obama Read His Emails?
Obviously, President Obama cannot read every email sent to him as the number of communications received each week is staggering–there are reportedly hundreds of thousands of correspondence sent to the President each week.
However, President Obama does read 10 letters everyday. As you see in the video below, the amount of information received is tremendous and there is a staff dedicated to delivering the President the most representative of these letters each week.
How To Contact President Obama by Mail
Email is not the only way to contact the President. You can also sent mail the old fashioned way…in a letter or postcard.
Obviously, there is no character limitation this way so you can say whatever you want to say with no limits.
The address to contact President Barack Obama is:
The White House
1600 Pennsylvania Avenue NW
Washington, DC 20500
Based on the video above, the President was reading what looked like a lot of standard mail. So, perhaps your best chances of contacting the President rest in the old-fashioned type of snail mail rather than an email message. That is just speculation and I have no way of confirming that.
Contacting the President By Phone
If sending an email or letter is not your thing, you can also contact the President by telephone or fax. The numbers are as follows:
Comments: 202-456-1111
Switchboard: 202-456-1414
FAX: 202-456-2461
For the hearing impaired, the numbers are as follows:
TTY/TDD
Comments: 202-456-6213
Visitors Office: 202-456-2121
How To Contact President Obama: Summary
The Barack Obama Whitehouse has embraced technology and uses their website as one of the primary means of communication.
Historically, the President Obama Email Address would be the same as all presidents: president@whitehouse.gov. However, it seems that the current Barack Obama administration is directing people to the Whitehouse contact form. This form limits your entry to 2,500 characters. So, if you have more to say, you may want to email president Barack Obama at the traditional presidential email address.
Or, you can send the President a letter at the address listed above which obviously has no character limit.
Also, we have provided you with the phone numbers to contact Barack Obama.
As we see in the video, the raw numbers are as follows. The WhiteHouse receives more than 65,000 letters each week, 100,000 emails, 1,000 faxes and an average of 3,000 phone calls each day.
Will the President actually see or hear what you have to say?
Your chances are not good.
But, our conclusion, which is based on pure speculation, would be to send a hand-written letter with pictures to have the best chance of contacting President Obama.

Richard Cummings is writer, traveler, and web content developer. He creates fun, informative how to articles for this site and exercises his creative writing prerogative at ARichIdea.com.

Get your copy of his latest book entitled Obvious Conclusions, stories of a Midwestern emigrant influenced and corrupted by many years living in San Francisco and abroad. It just received its first outstanding review "...reminiscent of David Sedaris or Augusten Burroughs" on Amazon UK.

Latest posts by Richard Cummings (see all)