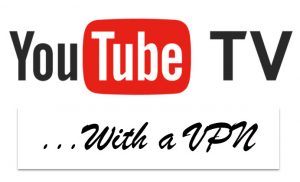 Want to know how to use YouTube TV with a VPN [or abroad]?
In this article, I will walk you through the three steps that you need to implement to use YouTube TV with a VPN or perhaps internationally, though for that you will want to review the YouTube terms of service.
I am a huge fan of YouTube TV even with the recent YouTube TV price increase.
However, one gripe I have with YouTube TV is that it does not often work with a VPN.
This annoys me because we are told to use a VPN for added security at all times and yet the services that we use most frequently often don't work with the top VPN software.  [See my article about using a VPN with Bank of America for an example of this.]
Also, for those who want to view YouTube TV internationally, YouTube TV geo-restrictions will typically prevent this. However, a VPN for YouTube TV can be the work around but, again, you want to consult YouTube TV terms of service to make sure that you're in compliance.
This how to article and video will be a short one because this process is pretty easy. The real challenge is choosing the proper VPN.
VPNS That Work With YouTube TV
My personal opinion is that if you cannot use your VPN software with everything you do, it's not a good VPN solution for you.
In fact, when it comes to VPN software, the popularity of the software can actually lead to its demise or at least to great user frustration.
Unfortunately, many streaming entertainment and financial services companies need to legally block access from certain areas and so they try to prevent people from using a VPN by recognizing and blocking IP addresses that come from VPN companies. The more common IP addresses that they see, the easier it is to block. Thus, the more customers that a VPN service has, it may be easier for them to be identified and blocked.
And YouTube TV has successfully identified and blocked many VPN services and IP addresses.  They will typically present you with the message that you see below: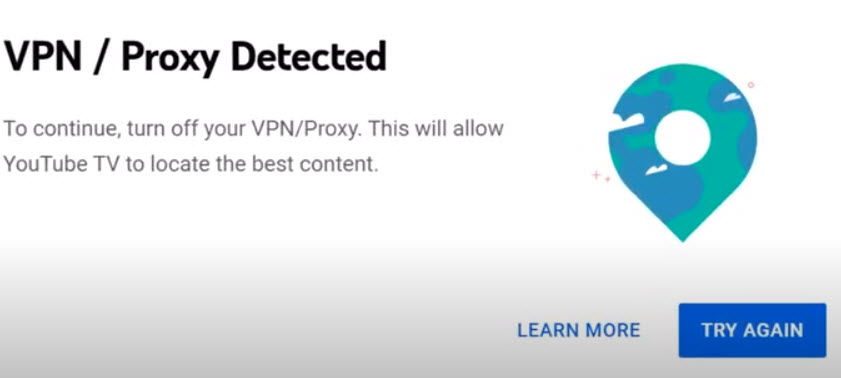 But there are currently two popular VPN services that I use that provide connections that work with YouTube TV.
The two VPN services that provide servers that work with YouTube TV are: NordVPN and Express VPN.
I say "provide servers" meaning that you can find some VPN connections in the USA with each service that work with YouTube TV. Not all VPN connections will work with YouTube TV. In fact, most won't…but some do and that's what's important.
I'll show you in the video below how I use YouTube TV with both NordVPN and ExpressVPN.
How to Use YouTube TV with a VPN [or internationally]
Step 1

: Sign-up with either NordVPN or Express VPN.

Step 2

: Find a connection that works with YouTube TV and write down that server name/number because you'll want to use it all the time with YouTube TV.

Step 3

: Vist YouTube TV as you normally would and watch your favorite programs!
And now, let's take a look at our video presentation about using YouTube TV with a VPN.
I'll demonstrate first what an unsuccessful connection looks like and then what a successful connection looks like using select NordVPN or Express VPN connections.
How to Use YouTube TV With a VPN [or abroad]
This video shows you in simple steps how to use YouTube TV with a VPN.
Conclusion
If you found this page, I'm guessing you share my frustration with using YouTube TV through a VPN.
It may be because you always like to have your VPN on to protect your privacy and security or it could be that you're an international user simply trying to view YouTube TV in another country.
In either of these circumstances, I'm sure you've experienced some frustration as you try to use YouTube TV with a VPN.
I hope this how to article and the associated video have shown you that it's possible to use YouTube TV with a VPN and provided guidance in doing so.
As always, I love to hear about your experiences so feel free to share them in the comments below.
Have a great day!
Cheers,
Richard

Richard Cummings is a writer, traveler, and web content developer. He creates fun, informative how to articles for this site and exercises his creative writing prerogative at ARichIdea.com.

Get your copy of his latest book entitled Obvious Conclusions, stories of a Midwestern emigrant influenced and corrupted by many years living in San Francisco and abroad. It just received its first outstanding review "...reminiscent of David Sedaris or Augusten Burroughs" on Amazon UK.

Latest posts by Richard Cummings (see all)