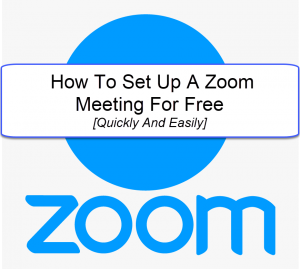 Want to know how to setup a free Zoom meeting or video chat? I will show you how to do it in just 5 steps and under 2 minutes.
Zoom has quickly become one of the go to apps for business and personal video meetings and chats. In fact, Zoom added more than 2 million members in just two months in 2020 and their stock price has skyrocketed.
You can use zoom as an app on your phone or on your computer. Personally, I prefer to use it on my computer so I have a larger view of all of my friends, family, and associates.
Aside from offering many features for free, another reason that Zoom has become so popular is that it's very easy to use.
So let's get to it, shall we?
I'm going to show you how to set up a Zoom meeting for free in two minutes and just 5 easy steps.

How To Set Up A Zoom Meeting For Free [Quickly And Easily]
Visit the Zoom website and agree to cookies.
Choose Host a Meeting with Video On.
Sign in with your Google or Facebook account: Confirm your details which may include date of birth.
Click "Schedule a Meeting" and then fill in the details of your meeting. When you're filling in the details, set video to on. Click Save to save your meeting.
Copy the invitation and send it to attendees. You can send the invitation via email, text, but most of the time I use WhatsApp web to send the zoom invitation via WhatsApp because that's most convenient for my contacts.
And here are these 5 steps in video form:
How To Set Up A Zoom Meeting For Free [in under 2 minutes]
Zoom has become one of the go-to sites for video meetings with business associates, friends, and family. But how do you setup a Zoom meeting for free? It's very easy…this video shows you how
---
I hope that you've enjoyed these quick steps and short video on how to setup a Zoom meeting quickly and easily.
Did you get it done in under 5 minutes?
Finally, if you have any questions about Zoom, ask them in the comments below and I'll get back to you as soon as possible.
Cheers, Richard
PS: For more great how-to posts, be sure to check out my recently published Ultimate Guide to Google Translate and my post on how to install and use WhatsApp Web — it's WhatsApp Web on your computer — you'll love it!

Richard Cummings is a writer, traveler, and web content developer. He creates fun, informative how to articles for this site and exercises his creative writing prerogative at ARichIdea.com.

Get your copy of his latest book entitled Obvious Conclusions, stories of a Midwestern emigrant influenced and corrupted by many years living in San Francisco and abroad. It just received its first outstanding review "...reminiscent of David Sedaris or Augusten Burroughs" on Amazon UK.

Latest posts by Richard Cummings (see all)