In this article, we will walk you through how to get a Gmail account, one of the best free mail platforms available. After reading this article, you will learn how to open a Gmail account in just a few moments.
This article is part of our ever-expanding How To Google series which looks at all the of the cool things that you can do with Google like How To Download YouTube Videos to your computer.
Gmail is an absolutely outstanding mail product and has been voted #1 of the Top 17 Free Email Services. When you sign-up for a Gmail account, you will receive practically unlimited email storage space and a fast, friendly, and secure email account.
Thus, many people hit the net wondering, "How Do I Sign Up For Google Mail?". Coincidentally, that is what we are here to tell you…so let's get started.
How To Open a Gmail Account
When we look at how to get a Gmail account, we are not opening a Pandora's Box of technical babble. It's actually pretty easy to get a gmail account. In these written instructions (see how to videos below), we have widdled the process down to just a few steps. You can do the process as you read the instructions as each link opens in a new windows. So, without further ado…

Step #1: Visit Google.com and click the Gmail icon as see in the photo below: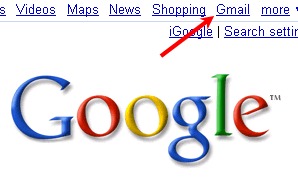 Click the icon that you see depicted in the picture below. This will begin the process of setting you up with an account.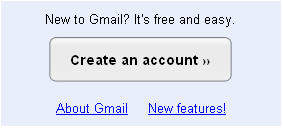 After clicking to create a new Gmail account, you will be on the "Create An Account" page. Here, you should fill out all of the information requested.
If you are new to the signup process, ensure that you follow the password guidelines and write down the answer to your security question so that you can recover your Gmail account if you ever need to.
Many people, when signing up for their Gmail account, wonder why they are being asked to provide a "Recovery Email". After all, you are signing for an email, so you might not even have another email address. You do not have to fill in a recovery email but it is used as a last resort in case you forgot your security question and cannot get into your Gmail account.
Perhaps the toughest component when you are getting your Gmail account is the Word Verification. These things are always tough to read as you see in the photo below. Can you tell what that says?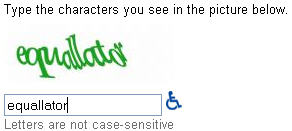 Fortunately, if you type it wrong, you'll get another chance. (The reason Google, and other companies, have to use Word Verification is to protect automatic signups from computers.)
Finally, click the button you see below, "I Accept. Create my account."


In the final step, you may be faced with something new that Gmail is doing to verify your Gmail account.
In an effort to protect us all from various types of spam, Google is doing everything in its power to remove Spammers (those evil souls who send anonymous email trying to sell something). Thus, they have implemented an extra layer of protection that you may encounter. A portion of this screen is depicted below: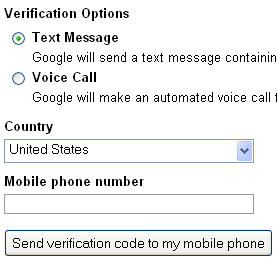 In this window, we see that this Gmail verification process can be performed by having Gmail send a text message or voicemail message to your cell phone.
There are some people who object to this type of verification. As we read in New Gmail account requires SMS verification, this process was implemented in the summer of 2009 and, quite understandably, many people do not want to submit their phone # to Google and are left without many options.
Thus far, Google has proven that they can be trusted with this information. If you receive this screen, and do not want to submit your phone #, you will have to use a friend's phone or choose another email platform.

Enjoy Gmail.
Those who enjoyed this post have also been reading how to delete Google search history to protect their Internet activities and How Do I Get YouTube Videos On My iPod to figure out how to take all the great YouTube entrainment on the road with them.
How To Get A Gmail Account: How To Videos
We know that many of you prefer videos and there are some videos available when we want to know how do i get a Gmail account. Below, you will find the best Internet videos on creating a Gmail account and my comments on each of the videos. These how to setup Gmail videos will open in a new window so you will not leave this page.
This is a quick one minute plus video on Gmail account creation. The quality of the video is slightly blurry but you can tell what is going on. The video is short but effective. Note: This video does not address the Gmail phone verification page as this is a relatively new feature.
This video lasts just over 8 minutes and is more informative than the first one. The video author addresses the Google sign up window in greater length and shows you how to sign into Gmail and sign out of Gmail. Additionally, you learn a little bit about the Google Reader, Google's program to automatically feed you great web content. If you enlarge this video to full screen, you will be able to view it much better. As with the previous video, this video does not address the phone verification issue as it is too new.
These two videos highlight all that you need to know when you are asking, "How do i sign up for Google mail?".
How Do I Sign Up For Google Mail: Summary
Gmail has quickly become one of the best and most popular free email platforms in the world today. Like with many Google products, Gmail is fast, friendly, and offers exciting new ways to do things. In the case of Gmail, Google created a whole new paradigm for how to do email.
Thus, many people hit the net wondering "how to get a Gmail account". As we have demonstrated, it is an easy process with just a few steps.
We hope this article has helped you to sign up for Gmail quickly. We invite you to look around our site and check out other how to video pages like how to make money with AdSense!

Richard Cummings is writer, traveler, and web content developer. He creates fun, informative how to articles for this site and exercises his creative writing prerogative at ARichIdea.com.

Get your copy of his latest book entitled Obvious Conclusions, stories of a Midwestern emigrant influenced and corrupted by many years living in San Francisco and abroad. It just received its first outstanding review "...reminiscent of David Sedaris or Augusten Burroughs" on Amazon UK.

Latest posts by Richard Cummings (see all)