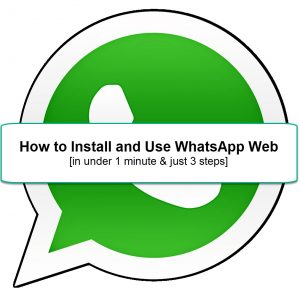 WhatsApp Web is WhatsApp on your computer or tablet. But how do you install and use WhatsApp Web?
I'm going to show you…and it should only take about 1 minute.
I remember when I first installed WhatsApp and I was amazed by how quickly it went. My first thought was: This program must not be too good if it installs so quickly.
How wrong could I have been — I absolutely love WhatsApp Web!
As someone who works from home on my computer during a good portion of the day, it's fantastic having WhatsApp on my computer and my tablet.
So, first, let me show you how to quickly install and use WhatsApp Web on your computer or tablet. This quick instruction should take no longer than 1 minute.
Then, for those who are interested, I'll get into more of the specifics of WhatsApp on your computer or tablet and what the differences are between WhatsApp on your phone and WhatsApp on your computer or tablet.
How to Install and Use WhatsApp Web [in under 1 minute & just 3 Steps]
On your computer, visit this website: https:// web.whatsapp.com

On your phone, open WhatsApp, touch the menu (the 3 vertical dots), and choose WhatsApp Web.

Point your phone's camera at the QR code on the screen to complete the installation. Now, return to https:// web.whatsapp.com and you're all set!
Here's a video of the process:
How to Install and Use WhatsApp Web [in under 1 minute & just 3 Steps]
WhatsApp Web is WhatsApp on your computer or tablet. And in this video, you'll learn how to use it in under 1 minute and just 3 steps.
---
Seriously, that's it? Yep, that's it.
Did you complete it in under 1 minute?
One final step that I like to take is bookmark the WhatsApp Web webpage so that it's always available. To do that in Chrome, simply hit CTRL-D.
As you can see, the WhatsApp Web screen on your computer looks very much like the WhatsApp application on your smartphone so there really is no learning curve.
However, there are a few differences to point out between WhatsApp Web and the WhatsApp application on your phone.

WhatsApp versus WhatsApp Web: What are the Differences?
For many of us, WhatsApp has become an integral part of our daily social and business lives.
So, if we are going to be using both WhatsApp on our phone and WhatsApp Web on our computers or tablets, we need to understand the difference in the functionality of each.
Here are the big differences between WhatsApp and WhatsApp Web.
WhatsApp Web enables you to type on your computer: Many people, especially those with big clumsy fingers, love this feature.
Sending files from your computer via WhatsApp Web: Just as you do on your phone, you can attach images, documents, or videos to your WhatsApp Web messages and, since much of the time the documents and images are located on your computer in the first place, this is much more convenient.
Desktop notifications: You can enable WhatsApp desktop notifications on your computer so that you'll know whenever you receive WhatsApp messages.
You should log out of WhatsApp Web on  public/work computers: On our phones, we never have to logout of WhatsApp because our phones are always in our possession. But, if you are on your work computer, you may want to logout of WhatsApp Web so that company officials are not privy to your personal life.
Easy to send Zoom invitations via WhatsApp Web: If you are setting up a zoom video chat, Zoom does not provide an easy mechanism to invite attendees via WhatsApp. However, with WhatsApp Web, you can just copy the zoom invitation and paste it into WhatsApp web.
WhatsApp Web depends on your WhatsApp phone app: You cannot use WhatsApp Web without it being connected to WhatsApp on your phone. If WhatsApp on your phone is not available, you'll see the message below: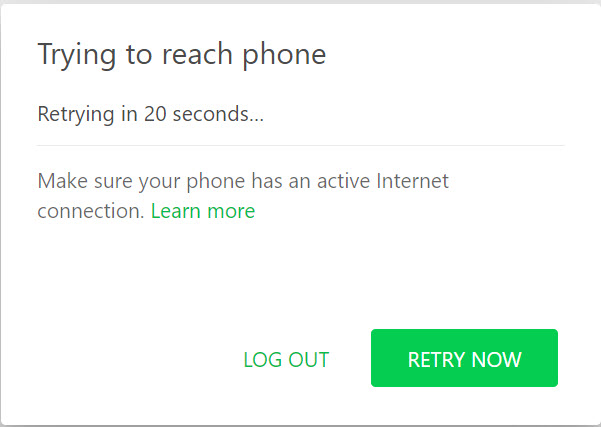 Specific Limitations of WhatsApp Web
You cannot create new status messages (but you can see them).
You cannot make or receive phone and video calls.
You can't attach your location like you can with WhatsApp on your phone.
You cannot use the WhatsApp broadcast feature with WhatsApp Web.
WhatsApp Web: The Ultimate [and quick] 2020 Guide – Conclusion
Have I adequately shared my enthusiasm for WhatsApp Web? I love this little web product that installs so quickly yet offers so much.
In the last few years, aside from in the United States, WhatsApp has become the go-to communication product for so many people and businesses.
WhatsApp Web will be a wonderful addition to your computer if you have not yet installed it and I hope this article has gotten you there rather quickly.
If you have any questions about WhatsApp Web, drop them in the comments below and I'll respond quickly.
Cheers, Richard

Richard Cummings is a writer, traveler, and web content developer. He creates fun, informative how to articles for this site and exercises his creative writing prerogative at ARichIdea.com.

Get your copy of his latest book entitled Obvious Conclusions, stories of a Midwestern emigrant influenced and corrupted by many years living in San Francisco and abroad. It just received its first outstanding review "...reminiscent of David Sedaris or Augusten Burroughs" on Amazon UK.

Latest posts by Richard Cummings (see all)