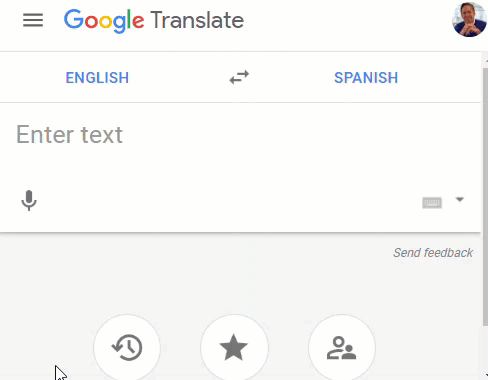 In this post, I'm going to show you how to use Google Translate on your computer and the Google Translate app on your phone and tablet.
Want to have live conversations with someone in another language?  How about translate a menu just by pointing your phone at it?  Or even transcribe (in real time) a live presentation that is happening in another language.
I'll demonstrate all this and more in this Ultimate 2021 Guide to Google Translate.
I've been living overseas in Spanish speaking countries and using Google Translate since 2007. While I do believe that Google Translate is one of the best ways to learn Spanish, it has evolved into so much more.
With what is known as big data and artificial intelligence, Google Translate has drastically improved through the years.
You can translate images, webpages, documents, live meetings.  And you can even now have live conversations with people in hundreds of languages.
Google Translate is an amazing tool and today I'm going to show you how to use all of these remarkable features of Google Translate on your computer and the Google Translate app on your phone or tablet — did you know that many of these incredible features are only available in the Google Translate app?
To the right, you'll find a table of contents for this article if you would like to go directly to a particular section.
As I do in most of my how to articles, I'll start with the rapid tutorial for the computer savvy who just want to know the quick steps.

How to Use Google Translate: The Quick Guide [with video]
Go to the Google Translate webpage (or download the app): https://translate.google.com/
Choose your source and destination language: For example, if you want to translate Spanish to English, choose Spanish for the left box and English for the right box.
Type, speak, or paste your words in the source box: You can type, use the microphone to speak, or paste the information that you want translated in the source box and it will be shown in the destination box.
Here is a quick video to illustrate the process:
How to Use Google Translate: The Quick [1-Minute] Guide
This quick guide will get you up and running with Google Translate in under 1 minute.
How to use Google Translate on your PC or Mac
While there are often many differences between a PC and a Mac, there are not when we look at how to Use Google Translate because we are visiting a website which makes it machine independent.
If you watched the quick guide above, you see that Google Translate is a very easy product to use.
Because I often live in a foreign country, I find it priceless. And, when my girlfriend who only speaks Spanish had to meet my sister who only speaks English, Google translate was the perfect tool to allow them to be friends and not be a victim of the language barrier [see more below of the conversation feature].
So, let's get into some of the specifics using Google Translate on a PC or a Mac.

Google Translate: The Two Language Boxes [Source & Destination]
For this document, you will frequently hear me use the terms source and destination boxes.
So, let's be clear with an image about what I'm referring to: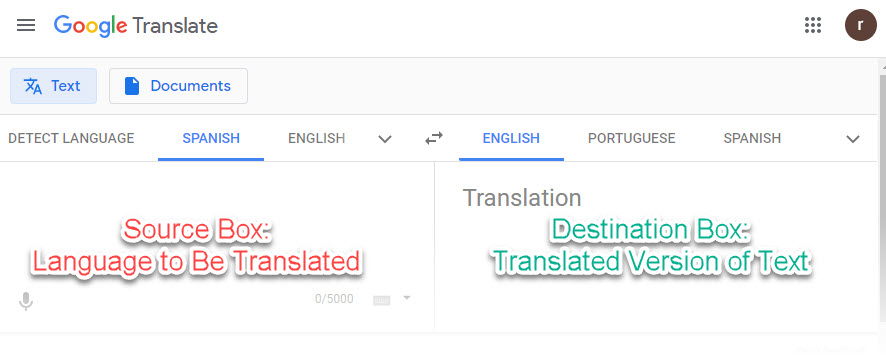 As we see above, the source box is where you want to enter the language to be translated and the destination box is where you will see the translated text.
Using Google Translate Without Leaving Google.com
Many people are unaware of this but you can actually use Google Translate without leaving Google.com.
Let's take a look at how this is accomplished.
When you visit google.com, and type in the word translate in the search box this is what you see: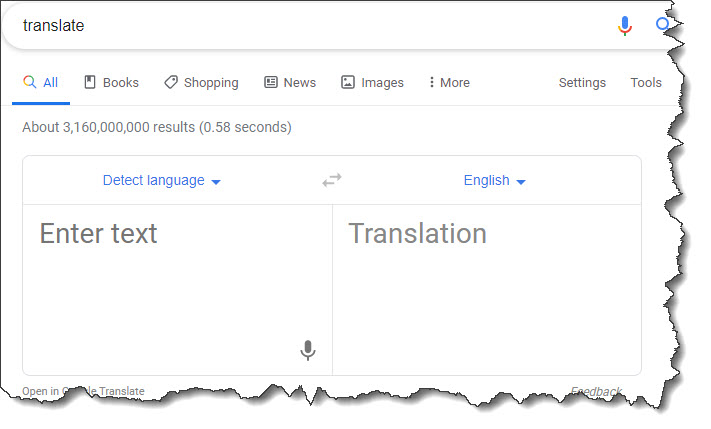 This works just like the Google translate web page.
In my personal opinion, I prefer to go to the Google translate web page but it's really a matter of personal preference.

Copying and Pasting Text into Google Translate
While you can always type information into the source language box, it's often much easier to copy and paste.
For instance, a majority of the time you might be reading an article on a website in a language that you're still learning, and you want to translate that information and/or look up a particular word in Google Translate.
In these circumstances you will want to copy and paste information into Google Translate So you don't have to retype in it.
So let's take a look at how that's done using a quick video:
If you are brand new to copying and pasting, for more information visit how to copy and paste in Windows or on a Mac.

Voice Typing Text into Google Translate
Voice typing in Google Translate is actually a feature that I use most of the time and many people are still unaware of this feature.
To use voice typing in Google Translate, you simply hit the microphone button in the bottom left of the source box and begin talking.
Here is an image of the microphone: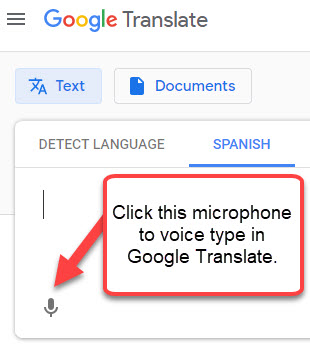 Obviously, voice typing in Google Translate requires you to know the source language.
For example, if you want to translate from Spanish to English, but you don't speak Spanish very well, voice typing is not going to do you much good.
That said, I actually recommend this as one of the best ways to learn Spanish.  When you reach a certain level in a language, you can use Google Translate to test your pronunciation. If Google translate understands you, there's a good chance that everyone else will too.
Check out the video below of me using voice typing in Google Translate to practice my Spanish:
How to Use Google Translate to Translate a Whole Webpage
Another quite amazing feature of Google translate but most people are unaware of is the ability to translate an entire webpage.
This is obviously convenient if you are reading an article in another language and want to see the entire article translated into your language.
Let's take a look at the steps we need to do to translate a webpage using Google Translate.
Copy the URL of the web page that you want to translate.

Paste this URL in the source box of Google Translate.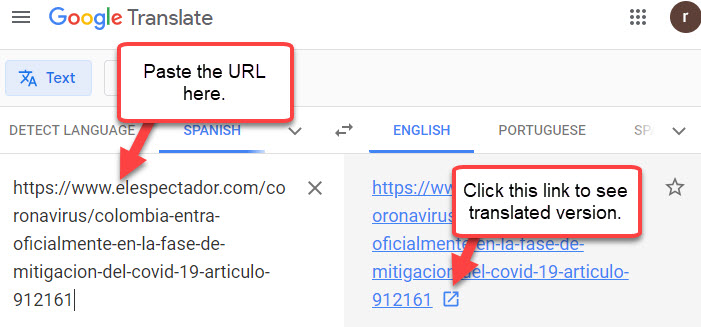 Click the link in the destination box (as you see in the graphic above) to see the results.
Here is a copy of the translated webpage.

How to Translate Documents Using Google Translate
So far, we've talked about translating information that we've typed-in, copied, or spoken to our computer.
However, many people have a document that they need translated, such as a Microsoft Word document or PDF document.
This often comes up in circumstances where people are living in a foreign country and need documents translated or with someone working in a translation position and receiving many documents in one language and having to translate to another.
In these cases, it would be very convenient to translate documents. And, conveniently, Google translate offers this feature as well.
So how do we translate documents using Google translate?
In fact, after choosing our source and destination language, it's very easy and we can accomplish it in just three steps.
Click the documents tab in Google Translate.

Select "Browse your computer" to locate and upload the document for translation.

After uploading, click the Translate button to translate the document.
Here's a short video on the process.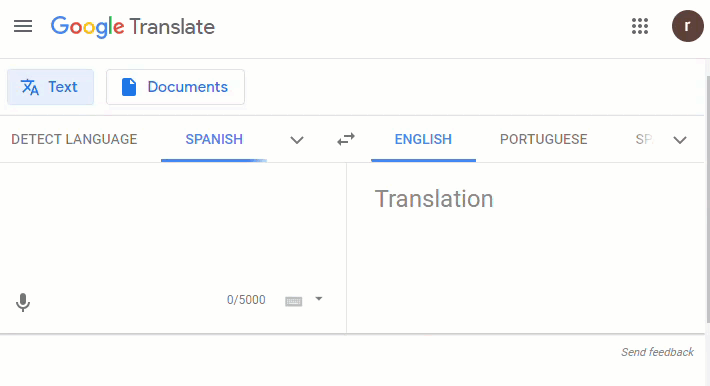 Google Translate History, Saved, and Community
You will notice 3 rounded buttons on the bottom of the Google translate page on your desktop. These are called History, Saved, and Community.

Let's take a look at each one of these.

Google Translate History [It's Going Away Soon]
Google translate history does exactly what it sounds like it would do — it saves the translations that you have done historically.
When you click the history button, you see all the items that you have had translated.
Take a look at mine: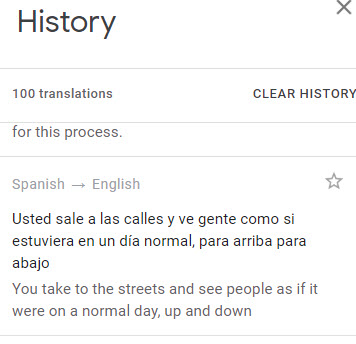 Don't count on this feature though because Google Translate history it going away soon as you see in the note below: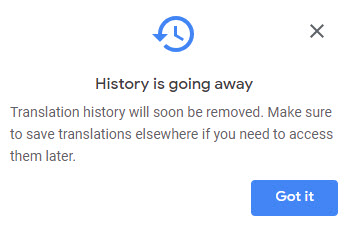 Rumor has it that in the future Google history will be found in your Google Activity if you're signed on with your  Google account.

Google Translate: The Saved [Phrasebook] Button
It's very easy to confuse the Google Translate History button with the Google Translate Saved button.
I remember thinking when I first began using Google Translate: "Why do I need to bother using the save button if the history button is saving all of my translations?"
Well, now that we see the Google translate history feature being sunsetted it is important to know the difference.
If you do not back up your Google Translate history before the feature goes away, it will be gone for good.
You will often hear people refer to save translations as their Google Translate phrasebook.
The idea is that important translations should all be saved and thus become part of your phrasebook.
To use the saved feature simply click the star button to save translations that are important to you as you see in the image below:

What is the Google Translate Community
The Google translate community is a group of participants who collectively make Google translate a better product by offering suggestions and improve translations.
Many have asked what the benefits are of joining the Google translate community. Specifically, many want to know whether they will receive money by adding to the Google Translate community.
Sadly for some, you do not receive any money for contributing to the Google Translate community.
You do, however, receive the benefits that you will find articulated here.

The Google Translate App: Cool Features [that you won't find on your desktop]
The Google Translate app has some amazingly cool features that we do not find in the desktop version of Google Translate.
Among them, we have the ability to handwrite text, translate images, have live conversations with our friends who speak other languages, and transcribe live meetings and events.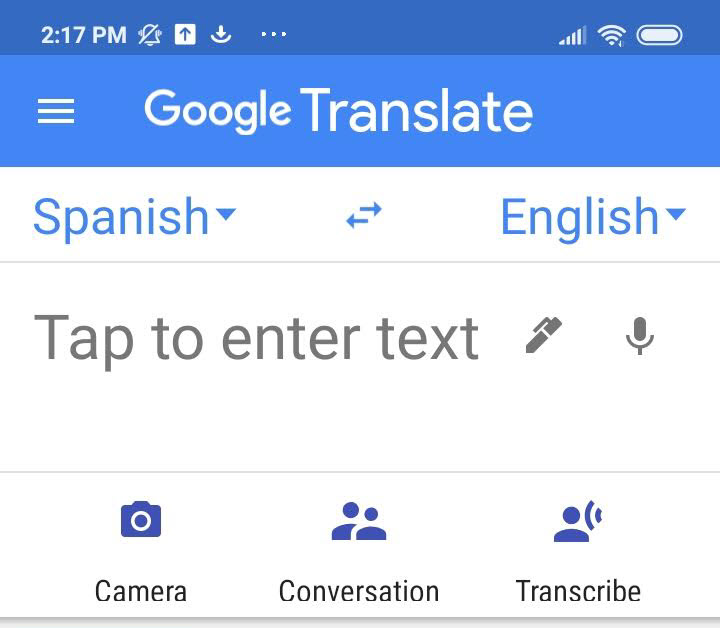 The Google Translate app is available on Android, iPhone, iPad, and Kindle.
Now, without further ado, let's demonstrate these intriguing features of the Google Translate app.

Google Translate:  How to Use Handwriting
Confession:  Handwriting is the only feature of  Google Translate that I rarely use.
Why not?
Well, in today's world it's much easier to copy and paste, voice-type using the recorder, or simply type text.
I think we're probably entering a world where younger people may not even learn how to write by hand.
Be that as it may, you'll realize that this tool is first rate when you give it a whirl. You simply have to click the pen icon next to Tap to enter text in the Google Translate app and you're off and running.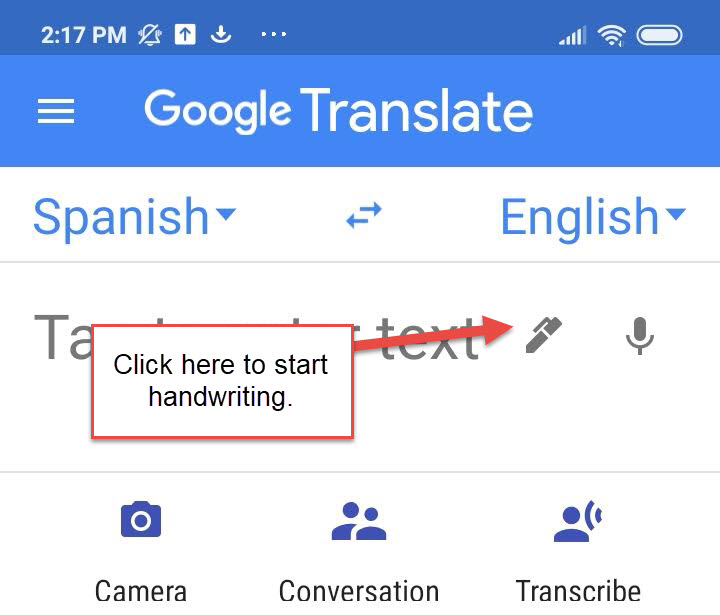 Then, in the box below, just use your finger as if it were a pen and begin writing.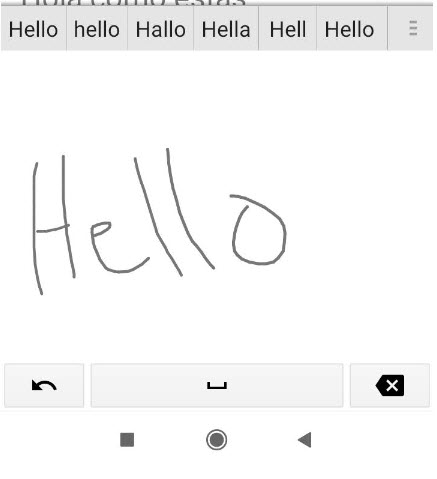 This handwriting feature is very intuitive — you don't have to write a full sentence on the little screen. After you handwrite one word, it recognizes that word and seems to know that you are done and moves to a new screen for the next word.
Even though I thought I would not find this handwriting feature of Google translate useful, I actually kind of like it and might use my finger as a pen a little bit more in the future.

Google Translate: Image [Camera] Translation
Ever wish you could understand the menu at the restaurant in France? Or read the caution sign on the highway in Russia that says obstruction ahead, slow down!?
Well, you need not worry. The Google Translate camera feature has got you covered.
Since I am currently writing this from here in the Spanish speaking country of Colombia, let's take a look at one of the headlines from a prominent newspaper today.

Now, if I am in a cafe and want a quick translation without having to type information into my phone, I can use the Google Translate Camera feature.
To do this, ensure that your source and destination language are set and then click the camera icon in Google Translate and point it at what you want translated.
It's literally that easy. Here's the result.

What we just did is called Instant translation.
This translate image feature also gives you the ability to scan an image or import a preexisting image for translation.
In summary, you'll love this feature so give it a try!

Google Translate Conversation Feature: How To Have Conversation With Someone In Another Language?
If you thought the image translation was impressive, this conversation feature of Google translate knocks it out of the park!
You can literally now have a live real-time conversation with someone else who does not speak your language.
Imagine this: My sister from the United States was visiting me in Colombia and she was very excited to meet my girlfriend. Ummm, we have a small problem here– my girlfriend only speaks Spanish and my sister only speaks English.
What on earth are we going to do?
It turns out that all we needed to do was hit that little conversation icon in the Google Translate app.
How does this work?
If my girlfriend is currently willing, I'm going to show you how it works right now. As mentioned, my girlfriend only speaks Spanish and I will pretend right now that I only speak English.
We're going to have a conversation using this feature of Google Translate and I will feature it below.
Here you go:
How to Use Google Conversation [Live Examples]
A live example of the Google Conversation Translate feature.
---
As you can hear, the translation voice is a bit robotic but it gets the job done of allowing two people with no language in common to communicate with one another.
And one final thing with Google conversation translation that I get asked frequently: how many phones do you use with Google conversation translation?
Currently, you only use one phone and each person speaks into that phone and then the other listens to the translation.
As you can probably tell, I absolutely love this feature of Google translate — it was literally the only way that my girlfriend and my sister could have gotten to know each so well.
And my guess is you will share my enthusiasm after you have tried out this feature.

Google Translate: New Transcribe Feature
When we hear the word transcription, our natural inclination would be to think of someone speaking and another person writing down what they are saying.
This is exactly what the Google translate transcribe feature does. The only difference is that the person is speaking in one language and the transcription is being done automatically by Google Translate into another language.
This is just another knock-it-out-of-the-park feature of Google Translate.
This Google translate transcribe feature was literally just introduced last year in 2020.  Take a look at the Google announcement.
I have put together this short video illustrating how to use Google Translate Transcribe:
As you can see, I'm speaking English and this transcribe feature is writing down what I'm saying…in another language and in real time!
Conclusion:  How to use Google Translate [The Ultimate 2021 Guide!]
My goal with this how to use Google Translate page was to bring you the ultimate guide this year.
I have tried to cover and demonstrate how to use every feature of Google Translate and, as we have seen, there are many great features.
From translating documents and images, to handwriting and live seminars, Google Translate can seemingly do it all.
My personal favorite feature of Google Translate is the conversation feature of the app — this truly allows anybody in the world to have a live conversation with anybody else, independent of where they're from and what language they speak.
Incredible — and it's all free.
In the end, a great part of our humanity is communicating with others in this world and that is exactly what Google translate does — it allows us to communicate with many more people and know our world a little bit better every day.

Richard Cummings is a writer, traveler, and web content developer. He creates fun, informative how to articles for this site and exercises his creative writing prerogative at ARichIdea.com.

Get your copy of his latest book entitled Obvious Conclusions, stories of a Midwestern emigrant influenced and corrupted by many years living in San Francisco and abroad. It just received its first outstanding review "...reminiscent of David Sedaris or Augusten Burroughs" on Amazon UK.

Latest posts by Richard Cummings (see all)