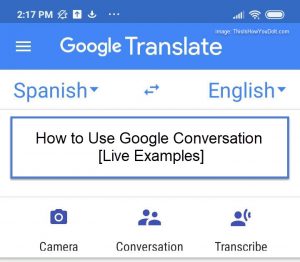 I am going to show you how to use Google Conversation with a live example between someone who only speaks English conversing in real time with someone who only speaks Spanish.
What is Google Conversation?
As we mentioned in our Google Translate How-To-Guide, Google Conversation is a feature of the Google Translate app which allows you to have live conversations with people who do not speak your language.
It's an amazing technology, an essential language learning tool, that literally opens up the world to you.
Think about it like this. The world has a little over seven billion people and at least 5 billion people do not speak your language.
With Google Conversation, you can now communicate with 5 billion more people than you could have before.
Pretty cool, huh? And, it's very easy to use so let's get started.

How to Use Google Conversation [Live Examples]
For this example, we will take an English only speaker and a Spanish only speaker and, using Google Conversation, you can see how they can now communicate in real time.
And, we will do this in just 4 simple steps. Here are the four simple steps with a how-to video of the steps below.
Launch the Google App on one of your phones [Google Conversation is not available in the desktop version].
Choose the two languages that will be a part of the conversation.
Click the conversation button.
Press the "Auto" button to automatically detect the language of the speaker or choose the speaker language manually.
That's it. When you begin talking, Google Conversation will determine the language of the speaker [if you chose Auto] and then it will speak what they said in the other language.
Let's a look at this video of Google Conversation in action:
Conclusion: Google Conversation Bridges the Communication Gap
There are many people for whom conversing in foreign languages is a part of their business. These people will see the need to use the Google Conversation feature of the Google app more so than many of us.
But think of the implications for when we travel internationally?
Google conversation enables us to communicate with anybody anywhere.
Whether we are traveling to France, Egypt, or India, we will always want to have this Google conversation feature with us at all times so we can ask for what we want, get where we want to go, and, most importantly communicate with the people in the places that we are visiting.
And that ability to communicate with anybody anywhere is what makes Google conversation a great tool!

Richard Cummings is a writer, traveler, and web content developer. He creates fun, informative how to articles for this site and exercises his creative writing prerogative at ARichIdea.com.

Get your copy of his latest book entitled Obvious Conclusions, stories of a Midwestern emigrant influenced and corrupted by many years living in San Francisco and abroad. It just received its first outstanding review "...reminiscent of David Sedaris or Augusten Burroughs" on Amazon UK.

Latest posts by Richard Cummings (see all)