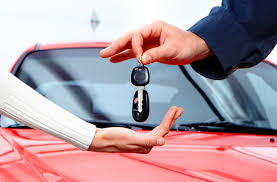 In this article, we will teach you how to buy a car online.
Apart from your house, a car may be your largest financial acquisition. Thus, you want to make sure that you get the best deal. As you know, you can get much better deals online because there is no middleman, no overheard. However, you need to know the secrets of buying a car online so you do not get a lemon. In this article, we will take you through all of the things that you need to consider before you buy a car online and we will provide you with the best how to buy a car online videos.
Why To Buy a Car Online
I remember when I was buying my first car a couple of years out of college. I knew exactly what I wanted: a two-door car with leather seats, a sun roof, and a multi-CD player. Beyond that, I wanted the best price.
I visited some car dealerships and read various articles about the cars that fit my needs. At the time, I loved the idea of buying a Saturn because their advertising provided a "feel-good" approach. Their motto was to give you the best price without any haggling. "The price is the price," they said, and you can trust us. The whole approach felt good because I did not want to be taken by some slick car salesmen.
On the day of my planned car purchase, I visited the Saturn dealership with the thought of walking out with the make and model that I had selected. However, when they totaled up the price of the car with all of the extras that I wanted–leather seats, a sunroof, and a great stereo–the price kept going up. Yes, with Saturn, "the price is the price", but the price was getting to be more than what I wanted to pay.
I decided to take a walk and happened upon an Acura dealership right next to the Saturn dealership. I started browsing the Acura models and saw one that met my exact needs but the sticker price was way beyond what I was willing to pay. Just then, one of the Acura car salesmen walked up behind me and said, "You know, right away we can knock $5,000 off the price of that car."
Excuse me? How can he just cut $5k off the price of the car? I suppose this is how the world of buying a car works. I test drove the new Acura, which was now near the price of the Saturn, and loved it.
I then got the hard sell. We haggled over everything–the price of my trade-in on a Ford Escort and all of the extras–did I want the leather protection, the alarm, etc… After a while, I began to wonder if the car even came with wheels or if I would have to pay extra for that!!!
In the end, the negotiations took 5 hours. I kept walking out saying, "It's ok, I don't need to buy today. My Escort works fine." Then, they would lower the price on all of the "extras". I bought the Acura for a pretty good price but it was an ordeal.
Would I do that again?
Absolutely not. Now-a-days, I will always buy a car online. Buying a car online has so many advantages, not the least of which is that you do not have to haggle with a slick salesman for 5 hours!
When I bought this Acura, the salesman kept walking into the back room to talk to some "higher-being". I was imagining them both back there laughing, smoking a cigarette, wondering how much money they could get from me.
Not now. When you buy a car online, you are virtually exposed to these conversations with the manager. You can find out exactly what the dealer paid for the car and know exactly how much they will make.
You become a car dealerships worst nightmare–an informed buyer.
And the best thing about buying a car online? You don't even have to deal with these slick car salesman. When you buy a car online, the car dealers differentiate you. They know that you are an informed buyer who is going to entertain lots of competitive bids. In fact, you will sometimes even get a car for less than the dealer paid for it just so they can get it off of their lot and make way for next year's model, which they hope they can sell to someone who is not buying a car over the Internet.
So, let's a look at how this process of buying a car on the Internet works and how you can always get the best deal on a new car.
How to Buy a Car Online: An Overview
Many people do not know how buying a car online works. From whom do you actually buy the car (the website, the dealership)? Where do you pick up the car? How do you pay for the car (credit card, check)? These are many questions that the new online car buyers are asking.
As you will see below in the detailed steps of buying a car online, the first thing that you want to do is see the car and test drive it (ironically, you often do this by visiting the car dealership). Once you have decided on the one or two models that you would like to buy, you then head to the Internet to make your informed purchase.
The first thing that you want to determine is the invoice price of the car. You want to know exactly what the dealers are paying for that car. This information can be obtained from a site such as Edmunds.com, where you can not only find the invoice price but also whether the manufacturer is offering any incentives on the car.
Once you know what the dealerships are paying for the car, it is time to find out where you buy this car online at the best price. You want to visit several of the reputable online car dealerships to determine the deals that you can get on that particular car. Several of the prominent online car retailers are carsdirect.com and cars.com.
Most of these online car auto sites actually work directly with car dealerships, perhaps even one very close to your home. The dealerships agree to abide by the CarsDirect.com low price guarantee so that you get the best deal. To you, it will seem as though all transactions are being done through the website when in reality the transaction still goes through a car dealer.
In these cases though, you are assumed to be a "smart customer" and are not given the treatment of someone who walks onto a car lot. In fact, the car dealerships usually have an arm of the business to deal in online transactions and those individuals know that the online game is very different–they have to offer great deals!
A friend of mine recently saw this process first hand. He entered a car lot off the street and offered to buy a car for $700 over invoice. The dealers laughed at him and told him that this was not possible. He then went to the various online dealers and each of them offered him the car at $500 over invoice. He did not have to do any haggling or negotiating–they offered him a lower price than the one that got him laughed off the lot.
In another example from this Edmunds.com article, the Internet Sales Manager for a prominent Nissan dealership said:
I would never walk onto a lot to buy a car. I don't want to go through all the hassle. Besides that, the sales team will start by trying to sell the car at sticker price. Plus, they will try to make more money on the back end, such as higher finance charges. [In the Internet department], we are straightforward and disclose everything. Nothing is pushed onto a client.
If someone who works in the car dealership says never to buy a car off the lot, doesn't that tell us something? We all need to know the secrets of buying a car online.
In the end, after you work out the financing with the online car retailer or independently, you then purchase the car at the best price and the car is often delivered right to your front door.
How's that for service?
How to Buy a Car Online: Step-by-Step Details
Ok, so now that you have decided to buy a car online, let's walk you through exactly how you want to do it.
Decide What Kind of Car You Want
This is the most exciting part of buying a car: deciding what car that you want. Do not rush this process.
You probably have a decent idea of what kind of car that you want to buy and now you can look around for the colors and models that suit your exact needs. Visit the online sites which will allow you to see how the car looks in different colors and styles.
Then, after you have narrowed your search, you will want to test drive the car. Never buy a car if you do not test drive it. Ever. Cars may look great but they don't all drive the same. You can test drive cars at the dealerships, but do not allow yourself to be hoodwinked into buying the car by the slick salesmen.
If you are at all susceptible to this, do not go into the dealership without a firm determination that you will not buy the car that day!!!
Obtain Financing for the Car
If you will be financing your car, rather then paying for it out right, make sure that you research your financing before you deal with anybody, even the online retailers.
Many people do great negotiations to get the best car price and then they get scammed on the financing and pay much more than they should.
The most competitive rates often come from your local banks and credit unions. Know what your credit score is (because they will use this information) and then head to your local bank or credit union to get the most competitive rates.
This will ensure that you do not get scammed by the dealerships, online or otherwise. The auto dealerships may even offer a better deal but at least you will have something to compare.
The bottom line is this: You want to know exactly what you will be paying for the car over time, not just the "purchase price".
Find the Best Price for the Car Online
Ok, now you are in the driver's seat, not the car dealers. You know the car that you want, you know how you will finance it, and now you need to find the best price.
Visit the prominent online car dealers above and get quotes from each of them.
Now, this next move may surprise you–you want to email the car dealerships. Remember, many of the retail car dealerships are working directly with the Internet sites such as CarsDirect.com and they are paying a fee for this service. It is possible that your local car dealer will offer you a better deal than the big websites. You can email them with this template email:
Dear Local Dealership:

I have decided that I would like to buy the [list car make and model] with these options: [list the car options and be specific so that there is no confusion].

I have prearranged my financing and am currently receiving quotes from [list of Internet sites].

I thought that I would contact you directly to see if you can make a competitive offer on this vehicle.

Thank you for your time and attention. I look forward to your response.

Sincerely,
Your Name Here
Buy the Car Online
Your next step is the one that gets you behind the wheel.
Once you have received the best offer, you go ahead and buy the car online through from the place that offered you the best price.
In many cases, they will even deliver that car straight to your doorstep.
Buying a Used Car Online
All of the methodologies above are appropriate for buying a new car online. If you are buying a used car online, there will be some caveats.
First and foremost, never, and I mean never, buy a used car online without driving it first. This is significant because it usually limits your options to local sellers. However, even though this limits your options, it prevents you from getting a bad vehicle.
Secondly, always do a vehicle history check to see whether this car has had been in an accident or had some other unseemly history…like it was flooded in a hurricane. You obtain a vehicle history check at a place like Carfax or Experian.
Thirdly, use your intuition. When you test drive a vehicle, you will undoubtedly meet the owner. You can tell a lot from the actual person. So, if you test drive the vehicle and like it, look at the person and ask them questions about the vehicle. Sometimes, you will find out information that will guide you in your decision making process.
Finally, remember, buying a used car online will save you a lot of money. When a new car leaves a car lot, it immediately depreciates by more than 30%. If you find the right car, you will save thousands of dollars. If you are studious in your approach, you can find great used cars at terrific bargains.
How to Buy a Car Online: Summary
If you are going to buy a car, it is foolish not to know how to buy a car online. Buying a car online not only saves you a lot of money, it can save you a lot of hassles because you do not have to deal with salesmen who do not have your best interests at heart.
Remember, follow the 3 critical steps when buying a car online. (1) Decide which kind of car you want using on and offline means. (2) Obtain the car financing (or at least get quotes) from local banks and credit unions. (3) Get quotes on your exact vehicle from numerous sources.
If you follow these critical steps, you will be able to buy the exact car you want online at the very best price!

Richard Cummings is a writer, traveler, and web content developer. He creates fun, informative how to articles for this site and exercises his creative writing prerogative at ARichIdea.com.

Get your copy of his latest book entitled Obvious Conclusions, stories of a Midwestern emigrant influenced and corrupted by many years living in San Francisco and abroad. It just received its first outstanding review "...reminiscent of David Sedaris or Augusten Burroughs" on Amazon UK.

Latest posts by Richard Cummings (see all)