In this post, we are going to show you how to connect to WiFi. All laptops can connect to WiFi networks. We will show you how to setup WiFi on your laptop, find WiFi networks, and connect to free WiFi networks.
First, let's do a quick review of what WiFi is because some people get confused on this. Primarily, confusion comes from the difference between WiFi Internet access and cellular wireless Internet access.
WiFi Internet access occurs when someone has setup a "wired" connection to the Internet which they have then made available as "wireless" via a router. Here are the most common 3 examples of this: Someone purchases broadband (either through DSL or cable) Internet access at their house and then sets up a router that provides "wireless" access to that wired connection. In the exact same way, a business–such as a coffee shop–purchases broadband access and makes this connection available wirelessly to all of the coffee consumers. Thirdly, when you find broadband access at an airport (or in some cases a whole city), they have also made wireless available through WiFi. In these second two scenarios, the business may, or may not, make you pay for the wireless by buying a subscription or a product.
For example, in my favorite coffee shop, you have to buy a cup of coffee and then you receive 2 hours of free wireless connectivity via their WiFi (it used to be free but people were coming in and using Internet without buying anything). To achieve this, they provide you with a user name and password to connect to their wireless which is preset to work for a 2 hour timeframe. A similar situation often occurs at airports. You will see that they advertise "wireless" throughout the airport. However, it is usually offered at a price of about $9 a day. It's a bit deceptive because it will initially appear that these connections are "unsecured, free WiFi" connections but, after you connect, they force you to their sign-up page.
If you have purchased your laptop in the last 5 years, it will have built-in WiFi capabilities. That is to say, there is a device in your laptop that can pick up all of the signals emitted by WiFi networks (the "hotspots") within your proximity. Check out the latest best selling laptops and you will see that they all have Wi-Fi networking capability.
Cellular wireless Internet Access is a whole different animal. This is not considered WiFi and you will often here it referred to as "mobile broadband". An example of this connection would be iPhone Internet access. In this scenario, you have Internet access wherever your cellular phone is functioning. Similarly, you can buy a cellular wireless Internet access card for your laptop (laptops do not come built-in with this like they do WiFi) with a monthly plan and be connected anywhere. This, however, costs money in form of the monthly service charge and is usually a bit slower than a WiFi connection. For more information on this scenario, view the Verizon Mobile Broadband plan.
How to Setup WiFi on Your Laptop
Ok, so let's get started with setting up your laptop for WiFi usage so that you can connect to available WiFi networks or "hotspots" as they are called.
If you have purchased a laptop within the past 5 years, it will probably have built-in WiFi capabilities and the software to use the WiFi will already be setup. But, where do you find the WiFi access on your laptop?
Well, on this note, we have two scenarios. Your laptop will either use the built-in WiFi software that comes with Windows (on a Mac computer, use the "Airport" tab) or it will have proprietary software that overrides the Windows software.
For example, with Dell computers, you use their proprietary Dell Wireless WLAN Card Utility instead of the built-in Windows software. You can this depicted in the picture below: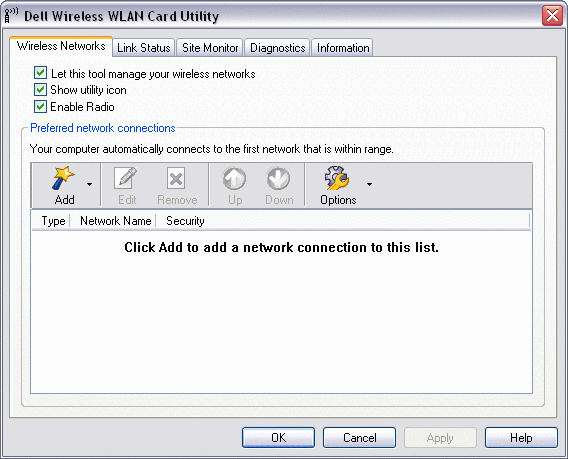 For more on Dell computers, visit their Using the Dell Wireless WLAN Card Utility page. Many laptop manufacturers use their own software for wireless access so simply search Google for "wireless access on a ".
If your laptop uses the built-in Windows software, you may want to read the article called Automatic Wireless Network Connections in Windows XP. This will teach you how to connect to WiFi using the built-in Windows software. You can see interface depicted in the photo below: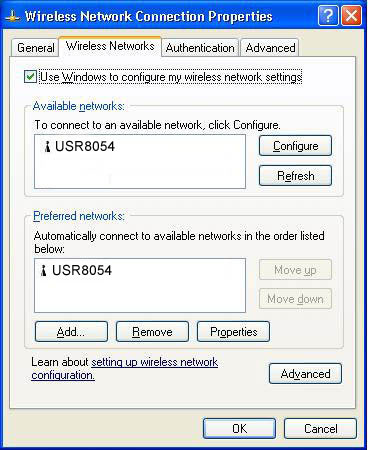 Finally, if you are using the new Windows 7 to connect wirelessly, your software will resemble the photo below: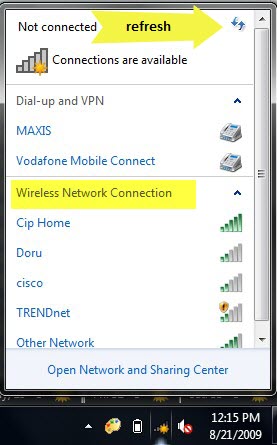 For detailed instructions on connecting wirelessly with the new Windows 7, here is a very good article with detailed instructions.
Does My Laptop Have WiFi?
As we said, if you purchased a laptop within the past few years, you certainly have built-in WiFi access. But, what if your laptop is a bit older? You may be asking, "Does My Laptop Have WiFi?"
The answer is that "it might". I know…vague answers are not that appealing. Let's find out how you can tell if your older laptop has WiFi. There are a few things that you can do to find out if your older laptop has built-in WiFi (don't worry–if it doesn't, you can buy a very inexpensive external WiFi connection).
The first, most practical, and non-technical way to tell whether your old laptop has Wi-Fi is to call the manufacture and ask them. They should be able to tell you right way. A second way to determine if your old laptop has WiFi is more technical. You can use device manager on your laptop to check out the details as you see in the photo below: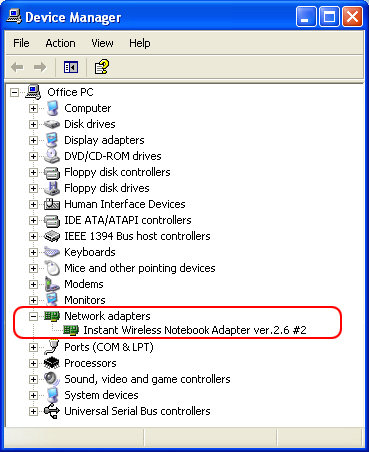 Here is how you do this: Right-click the My Computer icon on the desktop and then select Properties from the menu. The system properties window then displays. You then want to select the hardware tab and then device manager. There, under "Network Adapters", you will see whether you have a wireless network adapter, or Wi-Fi access on your computer.
In the end, if your laptop does not have a wireless network adapter, you can buy one for under $30 that either comes as a USB stick or a "wireless card" that you put into your machine. I recommend the Medialink – Wireless N USB Adapter as it is inexpensive, of high quality, and very easy to setup.
Connecting to WiFi Networks
Once you have setup wireless on your laptop, you are ready to learn how to connect to WiFi, which is very easy.
Using either the wireless software included with Windows ("AirPort Express" on Mac) or the proprietary wireless software you have installed (such as the Dell wireless software mentioned above), you can determine what wireless networks or "hotspots" are available and which ones are free, unsecured wireless access points.
You should see a graphic similar to the one below: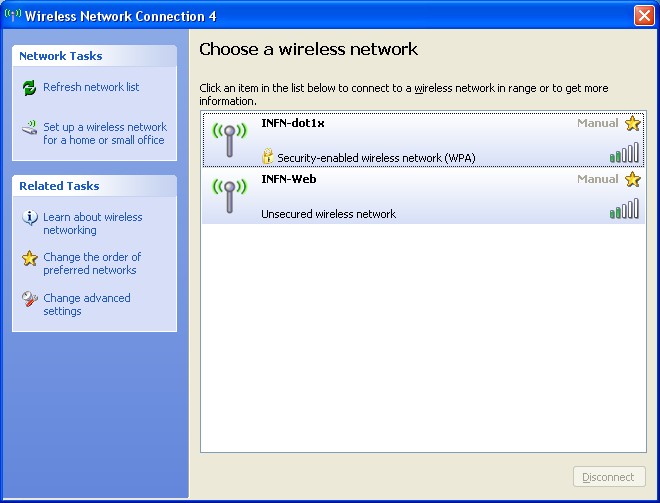 As we look at the above photo, we see that one of the available networks is a "security-enabled wireless network" wile the other is a "Unsecured wireless network". A security-enabled wireless network means that you cannot connect to this wireless network without a password. And unsecured wireless network is one that you can connect to free of charge.
Sometimes, if you are in a coffee shop for example, they may have a security enable wireless network which is free to use but you have to ask them for the password. In other instances, it may be an unsecured network that you can access for free.
If you are in a large city or residential neighborhood, you may often find many unsecured wireless networks that you can use free of charge. In these cases, the people who bought broadband Internet for their apartment or home simply failed to setup security when they set up their wireless Internet.
How To Find Free Wireless Internet
The are many ways to find free wireless Internet access in your hometown or towns to which you may travel. In fact, there is a whole website dedicated to free wireless Internet access in your area called http://www.wififreespot.com/.
The quickest and easiest way to get free Internet now is to pop on over to your local Starbucks. Effective in the summer of 2010, Starbucks offers free wireless Internet access for all. In the past, you had to have a special Starbucks access card which you had to pay for. However, as their website states, "Starbucks is now offering free, one-click, unlimited Wi-Fi to all of its company-owned stores in the United States."
How To Videos on Connecting to Wireless
We always like to compliment our how to articles with how to videos if there are some good ones out there. So, here are some how to videos about connecting to wireless networks. Each videos opens in a new window which you can close when you are finished viewing.
This video show you how to connect to WiFi in Windows 7. The presentation is about as bland as you would expect from someone dedicated to PC Repair but it shows you exactly what you need to do to achieve a WiFi Connection in Windows 7.
This is the best Internet video on connecting your Apple Mac to a WiFi wireless network. Since its a Mac, it is notoriously easy. Thus, this video lasts a short one minute and 24 seconds. Watch it and you will be connecting your Mac computers to wireless in no time at all.
This video takes you through the short process of connecting to WiFi using Windows XP. Though the first 1 minute is informative, you really need only to watch the last 34 seconds for your tutorial on connecting Windows XP to wireless networks.
You will probably also enjoy this video of a gentlemen who shows you how to get free Internet access just about anywhere. Though the quality is not great, this man goes to great lengths and many locations to show you how to use a tool called Easy WiFi Radar to find free WiFi locations in just about any area.
How to Connect to WiFi: Summary
As technology has gotten more friendly, it is now fairly easy to connect your laptop to your home wireless network or any public wireless networks.
For newer laptops, you definitely have a built-in WiFi connection and you simply need to use the available software to connect to WiFi networks or "hotspots" as illustrated in the text and videos instructions above. If you have an older laptop with no built in wireless connection, you probably want to buy this Wireless USB Adapter which will have you up and running in no time.
We hope this article has answered on your questions how to connect to WiFi. We make every attempt to provide the best textual and how to video descriptions that you can find. If your question has not been answered, feel free to post more information in the comments section below and we will make every attempt to answer it.
For more cool stuff that you can do on your computer, see the articles connect PC to TV and copy DVD to hard drive!

Richard Cummings is writer, traveler, and web content developer. He creates fun, informative how to articles for this site and exercises his creative writing prerogative at ARichIdea.com.

Get your copy of his latest book entitled Obvious Conclusions, stories of a Midwestern emigrant influenced and corrupted by many years living in San Francisco and abroad. It just received its first outstanding review "...reminiscent of David Sedaris or Augusten Burroughs" on Amazon UK.

Latest posts by Richard Cummings (see all)