In this article, I will tell you how to make web banners for your website or advertising campaigns quickly, easily, animated, and for free.
I was just chartered with the job of creating web banners for a product and the task was daunting.
First, the "creative arts" are not exactly my strong suit. What color goes well with orange? How do I know? Secondly, you need a good bit of graphics know-how (think Adobe Photoshop) to create very nice looking web banners.
So, essentially, I lacked the basic skills to create effective, nice looking web banners.
Thus, I searched for companies that could do this. Well, most of them want your money to create web banners.
However, in my searching, I found several companies that allow you to create web banners for free.  Initially.
Most of these companies give you a teaser version of their product for you to try for free but, anytime that you want create a really cool web banner, there's a price.
I will mention all of the products that I tried in the conclusion below but the one that I am going to recommend to you today is Bannersnack.
Bannersnack is fairly easy to use and it allows you to create 10 animated banners and ads completely free of charge.
Since I was looking at how to make web banners that looked professional and did not take a lot of time, I was particularly interested in the learning curve necessary to create these animated web banners.
Surprisingly, the process was very simple as the interface to create your web banners is intuitive and easy to comprehend after a few minutes.
As I mentioned above, it typically takes a good bit of technical understanding to create web banners and knowledge of a program such as Photoshop is not the only requirement —your creation may end up looking horrible because you lack that artistic gene.
With Bannersnack.com, lack of these technical skills is unimportant. The only thing that you need to do is create some catchy headlines and you are done because they offer plenty of pre-matched styles and templates.
I will create an example for you.
Let's say I want to promote the page on this site called how to carve a pumpkin by creating a simple, professional animated web banner using Bannersnack.com.
To show you how quickly this can be done, I will start now at 1:10pm and post the time it took me under the banner.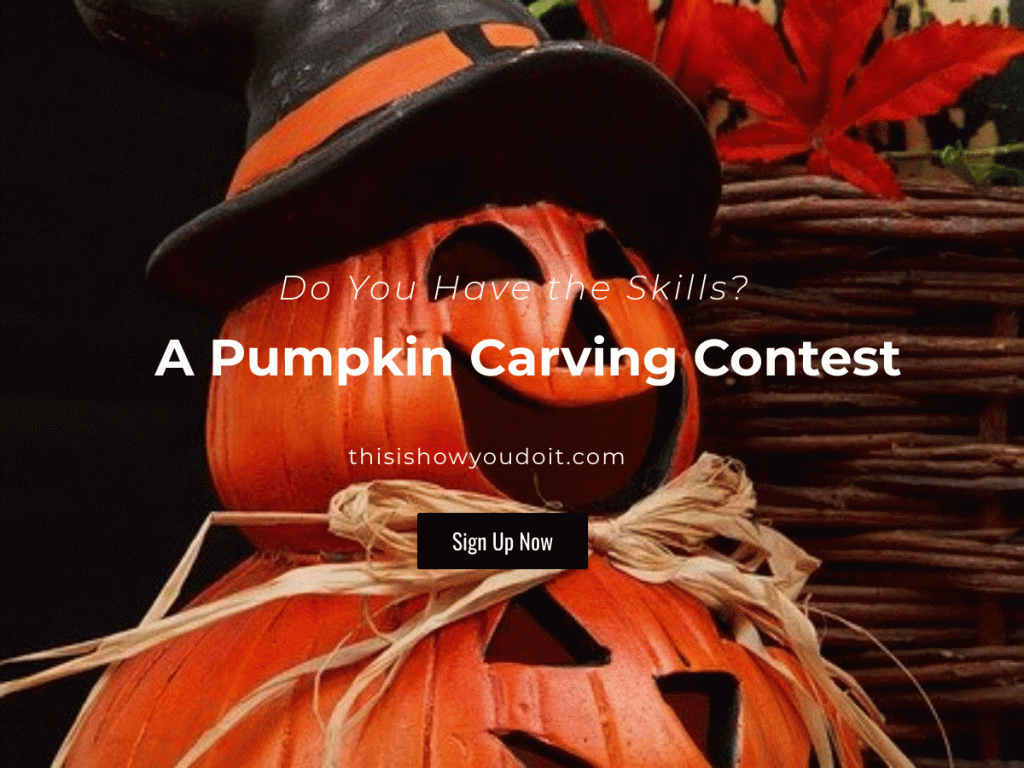 Ok, to create the animated web banner above, it took me all of 15 minutes; it's now 1:25pm. Just imagine how professional you could make your web banner if you took a little more time.
Basically, to create a web banner with Bannersnack.com, you do the following:
On the home page, choose "Make A Banner".
Login and then choose Single Design or Design set.
Create your new banner and the download it.
Video:  How to Create Animated Banners with Bannersnack.com
How to get started with Bannersnack: take a tour to get familiar with Bannersnack's tools and features.
---
Of course, the more sophisticated that you would like to get, the more time you will have to take to make your web banner.
But, remember this. The rewards of spending forever on your web banner are not always improved.
Sometimes the simple, professional static web banner does the trick even better!
How To Make A Web Banner: Conclusion
After endless searching and repeated efforts to be a graphic artist, I found that the easy way to learn how to make a web banner for free and professionally is by using Bannersnack.com.
There are other sites which compete with Bannersnack.  Here are there prominent banner creation sites:  Only Mega Banner Maker, Be Funky Banner Maker, Canva Free Banner Maker.
Each of these sites does a quality job and offers limited access to free users.  That's why I preferred Bannersnack.com.
With it, you can make professional web banners in a jiffy fore free! Go ahead and give it a try.
Let me know what you think in the comments below.
Cheers, Richard

Richard Cummings is a writer, traveler, and web content developer. He creates fun, informative how to articles for this site and exercises his creative writing prerogative at ARichIdea.com.

Get your copy of his latest book entitled Obvious Conclusions, stories of a Midwestern emigrant influenced and corrupted by many years living in San Francisco and abroad. It just received its first outstanding review "...reminiscent of David Sedaris or Augusten Burroughs" on Amazon UK.

Latest posts by Richard Cummings (see all)