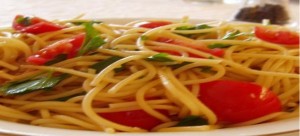 Want to move beyond Spaghettios and learn How To Make Pasta for real?
This page is filled with great videos on how to make pasta.  From Merluzza Puttanesca to Boiling Linguini Pasta, this page will leave you with your mouth watering and the skills to make pasta like a native Italiano!
How To Make Pasta Videos
Below, you will find all of the best instructional videos on How To Make Pasta. Simply click the play links to launch the videos. Enjoy the shows!
How to Cook Pasta Perfectly: Here's Everything You Need to Know
In this video, America's Test Kitchen's Christie Morrison lays all the myths to rest and shows every step into making a perfect pot of pasta.
Pasta | Basics with Babish
Learn how to make pasta from scratch, by hand, as well as two ways to utilize the fettuccine: aglio e olio and cacio e pepe.
How To Cook The Perfect Pasta – Gordon Ramsay
Top tips on how to how to cook angel hair pasta – with principles that you can apply to cooking any shape.
Homemade fresh pasta with Marcato Atlas 150 Classic – Video tutorial
How to make fresh pasta at home with Marcato pasta machines Atlas 150 Classic.
Perfect Pasta Dough with Gennaro
Italian food guru Gennaro shows you how to make perfect pasta dough.
Delicious Pasta At Home | Simple and Easy Pasta At Home
This video shows how easy it can be to make delicious, Italian restaurant-style pasta at home./span>
The Best Homemade Pasta You'll Ever Eat
This how to make pasta instructional video show you exactly how to create the best homemade pasta that you will ever eat — YUM!
How To Make Pasta: Conclusion
We hope that you have enjoyed these videos on How To Make Pasta. If you would like to add videos to this page, simply place them in the comments below!

Richard Cummings is a writer, traveler, and web content developer. He creates fun, informative how to articles for this site and exercises his creative writing prerogative at ARichIdea.com.

Get your copy of his latest book entitled Obvious Conclusions, stories of a Midwestern emigrant influenced and corrupted by many years living in San Francisco and abroad. It just received its first outstanding review "...reminiscent of David Sedaris or Augusten Burroughs" on Amazon UK.

Latest posts by Richard Cummings (see all)