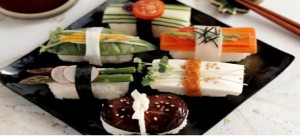 Watch these great how-to make sushi videos.
Here, you'll find sushi and recipe techniques that will have you creating the best sushi that you have tasted. These sushi videos include how to make Tiger Rolls, Tuna Rolls, California Rolls, and other fun videos like how to properly eat Sashimi.
We have strived to bring you all of the great Sushi videos from the Internet. If you have videos that you would like to add, place them in the comments below and we will add them to the page.
How To Make Sushi Videos
Below, you will find all of the best Internet videos on how to make sushi. Simply click the play link to launch the video. Enjoy the shows!
How To: Step-by-Step Sushi at Home
Making sushi is easier than you think — just check out Kikkoman's easy-to-follow sushi technique and get rolling!
How to Make Sushi: Easy Step-by-Step Instructions
Want to learn how to make easy and delicious sushi at home? This video is for you!
Beginner's Guide to Making Sushi

The must-see how to make sushi for beginners guide.
How To Make Simple And Delicious Sushi(1/2)
How To Make Simple And Delicious Sushi At Home.
King Crab California Sushi Roll!
This video shows how to make/cook a California sushi roll with the best ingredients possible, that being Alaskan King Crab!
How to Make a Tuna Roll
Even though it has under 5 ingredients, and a universally beloved dish, you don't often hear about people making tuna rolls at home…until now.
How To Make Sushi – Tuna Fish Rolls
A how to make sushi Tuna Fish Rolls video…in only 2 minutes!
How To Make Dragon Roll (Recipe)
Make dragon roll at home with crunchy shrimp tempura wrapped in nori and rice covered with a layer of sliced avocado. Drizzle with spicy mayo!
Flying Tiger Sushi Roll – Salmon Avocado Roll
Learn how to make this delicious but simple salmon avocado sushi roll. This video will show you all the steps to make this tasty sushi roll from home.
---
Also, be sure to check out this How to Make Sushi YouTube Channel that has many great sushi preparation videos and you'll also want to check out these mouthwatering sushi recipes from AllRecipes.com
---
We hope that you have enjoyed these videos on how to make sushi. If you would like to add videos to this page, simply place them in the comments below!

Richard Cummings is a writer, traveler, and web content developer. He creates fun, informative how to articles for this site and exercises his creative writing prerogative at ARichIdea.com.

Get your copy of his latest book entitled Obvious Conclusions, stories of a Midwestern emigrant influenced and corrupted by many years living in San Francisco and abroad. It just received its first outstanding review "...reminiscent of David Sedaris or Augusten Burroughs" on Amazon UK.

Latest posts by Richard Cummings (see all)