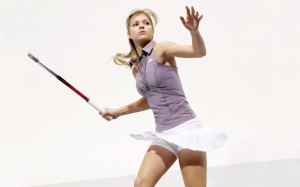 Hello and welcome to our how to play tennis page.
Tennis is a great game that lasts a lifetime and everyone should learn how to play tennis.  
On this page, we bring all the great tennis instructional videos that beginners can use to learn and improve their forehand, backhand, serve, and strategy.
Given many tennis lessons go for more than $50/hour, let this be your inexpensive tennis teacher as you learn the great game of tennis.

How To Play Tennis Videos
Below, you will find all of the best instructional videos on How To Play Tennis. Simply click the play links to launch the video. Enjoy the shows!
How to Play Tennis in 10 MINUTES – Forehand, Backhand, Serve Lesson
Want to play tennis? All you need is a racquet, a court and 10 minutes! Getting into tennis for the first time doesn't have to be intimidating – we've laid out how to hit EVERY stroke you need to play the game, and thrown in super super-useful tips to help you along the way.
How to Master 3 Basic Tennis Strokes
Learn the volley, groundstroke and serve strokes with veteran tennis player and coach – Dustin Hedger.
LEARNING HOW TO PLAY TENNIS
In today's video, Siena learns how to play tennis just as you are.
Beginner Tennis Lesson | How To Hit Forehands & Backhands
This Beginner tennis lesson is for all skill levels. We go over the the grip for forehand and backhand as well as how the body should move with set up and through contact.
Beginner Tennis Tips to Look Like a Pro (Top Speed Tennis)
In this video I give you 3 simple tips to help you get more comfortable on the court and start having more fun.
How To Serve In Tennis In 7 Steps
If you want to learn how to serve in tennis with correct technique, then follow these 7 steps that guide you through proper technical progressions.
The Rules of Tennis EXPLAINED (scoring, terms and more)
Now that you've learns some strokes, let's learn all the basic rules of tennis.
---
How To Play Tennis: Conclusion
We hope that you have enjoyed these videos on How To Play Tennis. If you would like to add videos to this page, simply place them in the comments below!

Richard Cummings is a writer, traveler, and web content developer. He creates fun, informative how to articles for this site and exercises his creative writing prerogative at ARichIdea.com.

Get your copy of his latest book entitled Obvious Conclusions, stories of a Midwestern emigrant influenced and corrupted by many years living in San Francisco and abroad. It just received its first outstanding review "...reminiscent of David Sedaris or Augusten Burroughs" on Amazon UK.

Latest posts by Richard Cummings (see all)