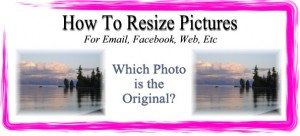 In this article, we will explain how to resize pictures. Many people want to know how to resize a photo to send in an email and upload to websites. Thankfully, resizing photos is easy and we're are going to show you how to do it quickly.
Before we get into the details of resizing pictures, let's take a look at why you need to resize photos. (If you just want the solution, go to resizing pictures now.)
This is best illustrated by example. Just last week, my friend's mom was trying to email him pictures. She knows very little about computers and thus had no idea what the average size of a digital photo is. So, she tried to attach 50 pictures in the email that she was sending from her hotmail account.
Well, she ran into two big problems in doing this: One, if you have not resized photos, uploading them to your hotmail account or any other website can take seemingly forever. And, two, hotmail–as do most email companies– imposes a restriction on the size of attached files.
What did she do? She actually sent my friend (her son) 10 emails with 5 photos attached in each one. She complained, "This took forever" and vowed never to do it again until she found another solution. The solution is to learn how to resize pictures and that is what this page is all about.
Comparing Original and Resized Photos
One of the things that many people are concerned about when they resize a photo is maintaining the quality of the image.
When we look at original photos and their resized counterparts, the size difference is amazing. However, the quality does not diminish too much.
Let's have a look and compare original pictures next to their resized version below. I will give you three examples arranged randomly and you can try to choose which one is the original versus which one is the resized photo.
Original and Resized Photos
Here are three examples of original versus resized photos. Take a look at them side-by-side to determine if you can tell which one is the original versus which one is the resized photo.
To me, it is amazing that photo resizing software has the ability to cut a picture in size by 20 times and retain the image quality so well. As you can see, when you compare the file size of the original photo versus the file size of the resized photo, it is remarkable that this picture quality is maintained.
As you can see, in the chart above, I have provided a link to the original full size version of each of the photos. As pictures get larger, it is supposedly easier to tell the difference between the original and resized original photo. However, to me, there is not near the 20 times difference in quality as there is in the file size.
When Should You Resize Photos
As we illustrated in the example above, you should always resize photos when you are going to email them. As you can see, at a size of roughly 2MB per original photo (and possible quite more if your camera is newer), emailing a lot of photos at their original size takes up a lot of space and bandwidth for email servers. This is why email providers like hotmail limit the amount and size of attachments.
However, email is not the only time that you should resize photos.
Essentially, anytime that you are placing photos on the Internet, you should resize them. If you want to upload photos to Facebook, you should also use this page to resize your photos for Facebook.
Normally, I resize all photos that I do not intend to print out. When you have photos printed, you always want to print the originals in order to maintain the optimal quality of the picture.
So, let's now have a look at how to resize photos, which is incredibly easy given the great results that we receive.
How to Resize Pictures: It's Easy
Resizing photos is easy and the software that we use does not cost a dime…it is absolutely FREE.
So, let's go through this step by step.
Step 1: Download and Install the Windows Resizer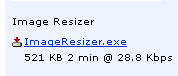 The Windows Resizer has been around forever but even in 2020 continues to be one of the best ways to quickly resize photos.  You can download it here and on the bottom right of the screen you will see a file called the ImageResizerSetup-3.1.2.exe just like in the picture to your left. Click that to install the Microsoft Image Resizer.
Step 2: Learning the Image Resizer
After you have installed the Image Resizer, you may be surprised to notice that you do not have an extra program listed in your programs. The Microsoft Image Resizer is easier than that–you do not even have to launch a program.
How does the image resizer work then? Where is it?
Well, when you want to resize a picture, you simply need to right-click the picture with your mouse and now you will see an option to "Resize Pictures" as you see in the photo below.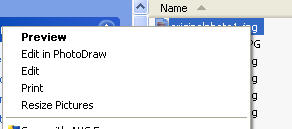 After you select "Resize Pictures", you will see a window that looks like the one below. Here, I always choose the "Medium: 800 X 600" version and you have seen the results above. You can play around the various settings to determine what is right for you or simply click the "Medium" choice.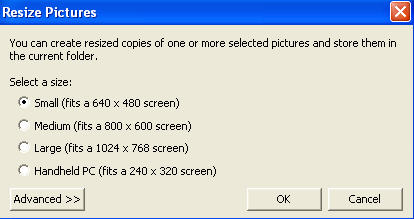 Now, what will happen? After you select this, a copy of the photo will be made and placed in the same directory. You will find this photo with the same name with the word ("medium") added in parentheses. (By choosing the "Advanced" choice, you can have the program remove the original if you want but I do not recommend this.)
Resizing Multiple Photos At the Same Time
I think one of the best parts about this image resizer is that you can resize multiple photos at one time.
Let's face it…in today's digital world we take A LOT of pictures. You do not want to go through them one by one and resize them. You want to resize them all at once.
Here is how I go about it.
I place all of the original photos in a directory. Then I select all of the photos in that directory by clicking the top file, then holding down the shift key, and selecting the bottom file (you can also use "Edit | Select All" to do this.) I then simply right-click and "resize photos" all at the same time.
To organize my photos, I then move all of the resized photos into a separate subdirectory. This is very easy to do. First, create a subdirectory. Secord, sort all photos by size (click the size column heading). Then, select all of the resized photos and cut and paste them into their own directory. Now, you have all of the original photos and the resized photos well-organized and available to you at your fingertips.
Resizing Photos: A Summary
We have to resize photos for any type of web activity. This may be because we need to resize pictures for email or resize pictures to upload to Facebook among just a few reasons.
By comparing original photos with resized photos, we can see that we get a lot of bang for the buck. Resized photos are about 20 times smaller in size but do not sacrifice too much in the way of quality.
Finally, we have shown you how to resize pictures using Microsoft Image Resizer, which is extremely easy to use.
I hope that now you confidently know how to resize a photo on your PC.
And, as always, feel free to add comments or questions below 🙂

Richard Cummings is a writer, traveler, and web content developer. He creates fun, informative how to articles for this site and exercises his creative writing prerogative at ARichIdea.com.

Get your copy of his latest book entitled Obvious Conclusions, stories of a Midwestern emigrant influenced and corrupted by many years living in San Francisco and abroad. It just received its first outstanding review "...reminiscent of David Sedaris or Augusten Burroughs" on Amazon UK.

Latest posts by Richard Cummings (see all)