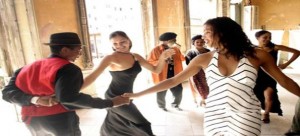 If you want to learn How To Salsa Dance, this page is for you.
You can learn How to Salsa Dance through this compilation of great, free Salsa Dance videos and lessons provided below.
Salsa is a great form of dance and you will absolutely love it!
After living in Uruguay for several years and becoming fluent in Spanish, I set a goal of learning how to salsa dance and, after that, how to dance cumbia. It was challenging at first as Americans typically do not dance like Latinos.
Latinos like to have a good chuckle at the way Gringo's dance. They say that we're all up and down and are not moving our hips like you should with great music.
So be prepared to move those hips because below you will find all the best videos on how to salsa dance.
NOTE: The first few videos teach you the basic salsa steps and can be performed without a partner. For the remaining videos, it's optimal to have a partner (see suggestions below about how to find salsa partners).
How To Salsa Dance Videos
Below, you will find all of the best Internet videos on How To Salsa Dance. All of these How To Salsa Dance videos are free. Simply click the links to launch the videos.  Enjoy the shows!
How to Do Basic Steps | Salsa Dancing
This first video teaches you the basic salsa step.
Salsa Beginners 1 – Salsa Basic Step for the Absolute Beginner – Detailed explanation
This is another look at the very first basic step of Salsa.
Beginner's Guide: How To Salsa Dance (No Experience Needed)
Ultimate guide on how to Salsa dance for beginners. We'll teach you 2 basic Salsa steps and how to combine them together.
Salsa Dancing for Beginners
Learn to salsa dance for beginners. This walkthrough video will help you learn how to salsa dance and provide you a series of salsa dance lessons that will teach you the basics steps to salsa dancing.
---
In the next two videos, we'll see the result of people who have mastered the salsa dancing craft. Let them serve as an inspiration on your learning salsa journey.
---
Amazing Salso Dance With Most Beautiful Sunset View!
Watch this amazing Salsa dance and enjoy the view!
Salsa Dancing Miami Beach
Salsa Miami street style!
---
We hope that you have enjoyed these beginner videos on How To Salsa Dance.
To really learn salsa, you need to find a good partner to practice with. If you do not have a significant other to practice with, look for salsa classes and clubs in you area. Meetup.com has many salsa groups and is a great place to meet others who really want to learn salsa.
Once you have found a great partner and have mastered the basic steps from these videos, I recommend the following YouTube channels to take you to the next level: Salsaventura, Baila Productions Salsa School, Passion4Dancing, and Dance Papi.
If you would like to add videos to this page, simply place them in the comments below!

Richard Cummings is a writer, traveler, and web content developer. He creates fun, informative how to articles for this site and exercises his creative writing prerogative at ARichIdea.com.

Get your copy of his latest book entitled Obvious Conclusions, stories of a Midwestern emigrant influenced and corrupted by many years living in San Francisco and abroad. It just received its first outstanding review "...reminiscent of David Sedaris or Augusten Burroughs" on Amazon UK.

Latest posts by Richard Cummings (see all)