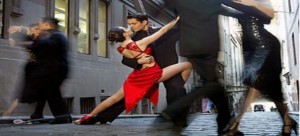 Welcome to our How To Tango page.
Here, you can learn how to dance Tango through fantastic online instructional videos. From the streets of Argentina, to the dance floors everywhere, the Tango is a wonderful dance that all our privileged to learn.
Learn how to Tango from the experts below!
How To Tango Videos
Below, you will find all of the best Internet videos on how to dance Tango. Simply click the play links to launch the video. Enjoy the shows!
Tango dance steps – Tango basic steps for beginners
Learn Tango basic steps in this video beginners who are eager to start with Tango.
How to Do the Tango 8-Step Basic | Argentine Tango
In this video, we are going to show you the 8-step basic Tango.
How to Dance the Tango with Music | Argentine Tango
Have you learned the beginning Tango steps? In this video, you can test yourself with Tango music.
Basic Argentine Tango
James & Joanna take you through the basic eight, windmill and forward ochos.
Tango Basic Steps for Beginners
Master these basic steps and learn how to Tango like a veteran.
Workshop – How to do Basic Tango for Beginners | Ballroom Dance
Watch this group dancing Tango lesson to learn along with others.
Amazing Tango – What You Will Dance Like After Lots of Practice
Enjoy the best champion tango dancers from all over the world as a source of Tango inspiration!
How To Dance Tango: Summary
We hope that you have enjoyed these videos on how to Tango. If you would like to add videos to this page, simply place them in the comments below!

Richard Cummings is a writer, traveler, and web content developer. He creates fun, informative how to articles for this site and exercises his creative writing prerogative at ARichIdea.com.

Get your copy of his latest book entitled Obvious Conclusions, stories of a Midwestern emigrant influenced and corrupted by many years living in San Francisco and abroad. It just received its first outstanding review "...reminiscent of David Sedaris or Augusten Burroughs" on Amazon UK.

Latest posts by Richard Cummings (see all)