In this article, we are going to tell you how to setup a wireless home security camera. Web based wireless home security cameras are not expensive, fairly easy to install, and they allow you to keep watch over your home at a reasonable price. If you are interested in setting up a wireless home security camera, this article is for you.
Why To Setup a Wireless Home Security Camera
To protect their homes, most people have setup standard alarm systems that will sound off when the home has been broken into. Often, with more advanced systems, these will also trigger an alarm that is directly connected to the police station. This ensures that local law enforcement will come by the house to ensure that everything is safe.
However, existing alarms are often reactive. They do not catch the person who has broken into your house. Rather, they simply deter them for staying for too long. On top of that, you often have very little chance of ever catching the perpetrator and you are left wondering if they will return and break into your home again.
Feeling safe in your own home is one those things in life that is non-negotiable. If you cannot feel safe in your own home, you probably shouldn't be there.
One thing that allows you to feel much safer in your own home, and know what is going on at all times, is a wireless home security camera. These cameras now come in all prices to fit any budget. Wireless security cameras for your home not only take live video of many rooms at one time, they can also contain a DVR. Just as you record DVR programs, these quality home cameras can record every ounce of video to a hard drive. Thus, you will not only know when someone has entered a room, you can identify them.
Break-ins are not the only reason to learn how to setup wireless security cameras in your home. There are many other good reasons for getting security cameras in your house. Not only do they allow you to identify someone who has broken into your house, they also often will prevent intruders in the first place. One thing that potential intruders hate is recordings of their activity. Simply by advertising that you have built-in security cameras, you prevent several break-ins. In this way, home security cameras serve as proactive crime prevention as opposed to simply reactive, like the home security system that you probably have installed at the moment.
There are other, simpler reasons that I enjoy our wireless camera security setup. My simpler reason is our two kids. Many of us have baby monitors so we can hear the sounds of our children. Well, just as we prefer TV to radio, we prefer video to just sounds. With a click on our laptop, my wife and I can quickly see how the kids are doing in their rooms. Are they simply making noises in their sleep or is there a real problem? All of these problems can be quickly identified and dealt with. My wife and I sleep much better after having placed a wireless security camera in our kids room.
Wireless Home Security Camera: What To Look For
Before you set out to buy a wireless security camera for your house, you should know what you personally want to have in your home video surveillance camera. My wife and I jotted down the following five requirements that we wanted in our wireless security camera system.
First, the system must be wireless. This was a "personal limitation" of mine as I did not want to have to string wires all over the house to each camera. We figured this requirement should not be that difficult as there are many options today that will connect to the wireless Internet you already have in your house.
Second, you need to determine the amount of security cameras that you require. We wanted to have a minimum of 3 cameras that connected to the system. The first camera would go into our little girls room so that we could watch them to make sure that they are always safe and sound. Second, we wanted to have a camera within the house that we place where many of our valuables are. And finally, we wanted one camera that could point outside so that we could always ensure the safety around the boundary of our house.
Our third requirement in this web camera is that it be web based and viewed from any location in the world. We did not want anything to technical. We simply want to be able to pull up the best Internet browser and be able to look at each of the web-based wireless security cameras quickly.
Fourth, we wanted a DVR on the camera. As mentioned above, what good is a camera going to be if you cannot record from it? For example, let's say you see someone snooping in your house. If you have no ability to record that video, you will not be able to catch and report the person.
Fifth, and finally, we wanted the wireless security cameras to have the ability to capture audio as well as video. This is primarily for our little girls as it enables us to hear whether they are crying, laughing, or making no noise. Video without audio is like the old motion pictures…it's just not enough. Thus, audio was one of our requirements as well.
In summary, our five requirements before purchasing and learning how to setup a wireless home security camera are: (1) Wireless to work with our existing wireless Internet and easy to install. (2) Minimum of 3 cameras ideally in one system. (3) Wireless camera must be web-based–no learning complicated software. (4) Must have recording capabilities in a DVR like fashion. And (5), the cameras must have audio as well as video.
Web Based Wireless Security Camera: Our Choice
Once you jot down your requirements, it's time to hit the store and see what matches your requirements. In the end, we found a couple of options that matched all of our requirements listed above. Here is a list of the two we narrowed it down to:
After reviewing these items, we were not left with a whole lot of confidence because they were not well-known manufacturers and the reviews of these products were not that great.
The one standout product seemed to be the Defender SN300-4CH-001 User-Friendly Web-Ready DVR Security System with 4 Indoor/Outdoor Night-Vision Surveillance Cameras (Black). However, this did not meet our requirements of being a wireless security camera and, as I said, I did not want to have to install wires all throughout our house.
In the end, we decided to simply get the Cisco WVC210 Wireless-G PTZ Internet Security Video Camera -w/2-Way Audio as it is made by Cisco and thus will provide valuable support if we need it. This wireless security camera met all of our requirements except one–it did not come with 3 cameras. We decided that, if we liked it, we could simply by more cameras which we did.
How To Setup A Wireless Home Security Camera
Wireless security cameras come in all shapes and sizes. In this scenario, we are going to tell you how to setup a web based wireless security camera so that you can get quickly setup with a home security camera. This example explains how we setup our new Cisco Wireless Camera but is pretty universally applicable to setting up all web based wireless security cameras.
Setting up Your Web Based Wireless Security Camera
Once you have ordered a web based wireless security camera, you will have to set it up. The setup will be easy for some of you and more difficult for the technically challenged. For those that are more technically challenged, we provide this overview on how to setup a wireless home security camera so that you will have a good picture on how to do this. These instructions assume that you already have a wireless network up and running in your household.
In the article how to connect to WiFi, we told you how to go about connecting your laptop to WiFi networks. If you know how to connect to WiFi with your laptop, you should understand the principles of connecting your WiFi camera.
When you connect your laptop via WiFi, you simply find the "WiFi name" from the list, choose connect, and then put in your username and password. We do the same thing when we are setting up a wireless camera in the house…with one major difference.
Our camera does not have a screen or keyboard. Thus, it is impossible to search for our home WiFi network and then enter a username and password. So, we first need to plug in our camera directly to our router via the Ethernet cable to configure it for the wireless as we see in the photo below: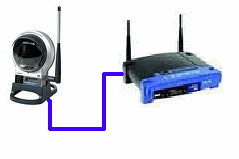 Once we do this, the camera obtains an IP address that, in the case of our Cisco wireless camera, we see on a little LED panel that the camera has.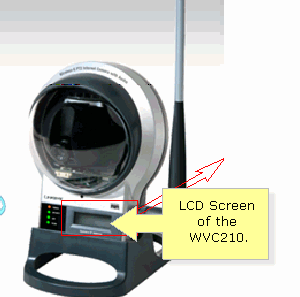 Once the camera obtains an IP address, we then put that IP address directly into our browser.

Every wireless web cam is equipped with its own mini web site, often referred to as the wireless camera configuration page. This page is accessed by putting the camera's IP address into the browser as we just did above. After doing so, we get the following "wireless camera configuration screen".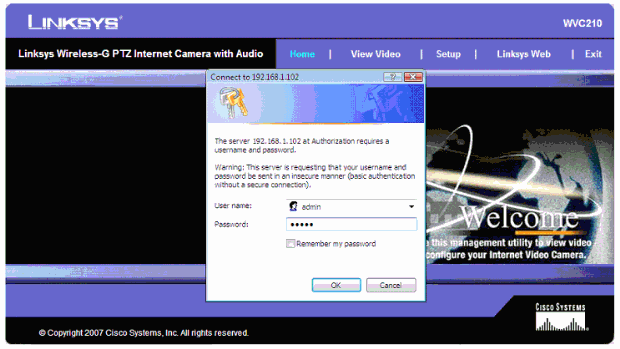 This configuration screen enables us to configure wireless for the camera just as we do on our laptops. With each vendor this will be slightly different, but essentially all web based wireless security cameras have a configuration page which can be reached by typing the IP address of the camera into the browser. This configuration page allows you to enter the wireless settings for your laptop.
Once you have entered the wireless settings on your camera configuration page, you can disconnect the camera from the router and make it wireless. Place the camera wherever you want now and it will obtain an IP address from the wireless network.
Now, whenever you want to view the live video stream from the camera, simply enter the camera's IP address into your browser and you can view live video.
You see…learning how to setup a wireless home security camera is not that difficult after all.
NOTE: If you go with the Cisco camera that we selected, you can view the Cisco camera setup instructions here.
Setting Up a Wireless Home Security Camera: Summary
Most of you probably have alarms in your homes. However, these alarms are too reactive and only provide an alarm noise; these alarms inform you after an intrusion has taken place and do not provide you with any other recourse for preventing future intrusions because there is no video.
Wireless home security cameras are a great way to augment your current alarm system. They allow you to capture images to DVR so that you can see what is going on in and around your house from anywhere in the world. Also, as I mentioned, my wife and I love to use ours to monitor our children through both an audio and video stream.
We chose a simple wireless camera for our house, the Cisco WVC210 Wireless-G PTZ Internet Security Video Camera -w/2-Way Audio. This camera was very easy to setup and provides tremendous functionality.
In learning how to setup a wireless home security camera, we have provided you with the steps that you will need to go through. First, you need to connect the wireless camera to your router so that you can view the configuration page of the wireless camera. On the configuration page, you will configure your wireless camera so that it can seamlessly access your WiFi network. Once this is done, you can unplug your camera and place it wherever you want. You then simply connect to the new IP address of the camera and have the ability to view the live video feed of the camera.
In the end, it is not that difficult to learn how to setup a wireless home security camera and we hope this article has helped you in your quest to purchase and setup a new wireless home security camera.

Richard Cummings is writer, traveler, and web content developer. He creates fun, informative how to articles for this site and exercises his creative writing prerogative at ARichIdea.com.

Get your copy of his latest book entitled Obvious Conclusions, stories of a Midwestern emigrant influenced and corrupted by many years living in San Francisco and abroad. It just received its first outstanding review "...reminiscent of David Sedaris or Augusten Burroughs" on Amazon UK.

Latest posts by Richard Cummings (see all)