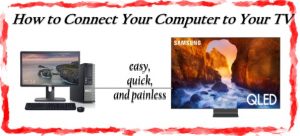 In the new age of LCD TVs, many of you want to know How To Connect Computer To TV.  When you connect your computer to your LCD TV, you open up a world of possibilities.
Many people like to connect computer to TV for entertainment purposes.   If you are having a party, and you would like to show people pictures or videos that you have taken, this is a terrific way to show everybody in the room.
Others like to hook up computer to TV to replace their computer monitors.  As we read in the article connect laptop to TV, many people ask the simple question:  Why should I use a computer monitor when I just bought a great new LCD TV.   The answer is that you should not!  There is no reason to have a new 22″ LCD Computer Monitor when your new LCD TV functions perfectly as a computer monitor.  Of course, your big LCD TV probably resides in the entertainment room not in your office.  In that case, you should find the best LCD TV/monitor that can fit in your office!
All of this assumes that you know how to connect your computer to your LCD TV…and that is what this page is about.
Below you will find many videos on how to hook up your PC to your TV.  With these new LCDs, this is a relatively painless process and can be performed without technical expertise.  While this page is about how to videos, you can also read the article cables needed to connect your PC to your TV if you prefer the written word.
So, let's get started with the how to videos on how to hook up computer to TV. (After determining your connection type, see below for where to purchase cables required for TV to PC Connection.)
How To Connect Computer To TV Videos
Below, you will find all of the best Internet videos on how to hook up computer to TV with my brief commentary below each one. Simply click the play link to launch the video. Enjoy the shows!
Connect Computer to TV With HDMI
HDMI cables will be the preferred connection for most people when connecting their computers to their LCD TVs. This short video sums up the process quickly and provides nice video illustrations.
How to Connect Laptop to TV using HDMI – Easy & Fun
When you're ready to get your laptop connected to your LCD TV with an HDMI cable, this 2-minute illustrated video is for you. It's from Nick, who you'll quickly realize provides solid information without much spectacle.
How to Connect Laptop with TV Wirelessly [without any cable]
If you have an LCD with wireless capability, you do not even need a cable to connect the two. This video teaches you how to wirelessly connect your laptop with your LCD TV. As with the previous video, what the presenter Pushpendra lacks in charisma he makes up for in efficiency.
Cables Necessary for Each Type of TV to PC Connection
In each of the videos, you have learned the proper connections between your computer and your TV. After figuring this out, here are the cables that you may need to purchase to hook up your TV to your computer:
1.) HDMI to HDMI Cable: Most connections from your computer to your TV will be HDMI to HDMI. This is the best cable for that connection.
2.) Belkin F3H982-25 Pro Series High-Integrity VGA/SVGA Monitor Replacement Cable (25 ft.): This link is for the VGA connection. This works with virtually all computers and LCD TVs.
How To Connect Computer To TV: Summary
On this page, we have provided many videos and textual links that show you how to connect computer to TV.
After viewing this page, we hope that you will have no problems when you hook up PC to TV. However, if you do, please submit them in the comments below so that others can learn from your experience.
We hope that you have found this page informative. Thanks for visiting and feel free to have a look at other great how to pages like how to copy DVD to hard drive and How To Download YouTube Videos To An iPod!

Richard Cummings is a writer, traveler, and web content developer. He creates fun, informative how to articles for this site and exercises his creative writing prerogative at ARichIdea.com.

Get your copy of his latest book entitled Obvious Conclusions, stories of a Midwestern emigrant influenced and corrupted by many years living in San Francisco and abroad. It just received its first outstanding review "...reminiscent of David Sedaris or Augusten Burroughs" on Amazon UK.

Latest posts by Richard Cummings (see all)