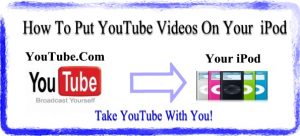 Many people ask, "How Do I Get YouTube Videos On My iPod?". It's actually pretty easy to put YouTube videos on your iPod and, in this article, we are going to show you how to do it!
There are so many great YouTube videos that many people want to know how they can take these YouTube.com videos with them on the go. Visiting one of the Top Ten Search Engines–probably Google–they ask, "how do i put YouTube videos on my iPod?"
And we have the answer for you. So now, when you want your favorite YouTube video with you on your iPod, it will be no problem.
And–you will like this–it is surprisingly easy to download YouTube videos to your iPod. We estimate that this procedure will take you less than 10 minutes to master.
On our how to pages, we like to make things very clear for you. As such, as part of our How To Google series, we are writing this YouTube to iPod converter article with the beginner in mind. However, if you are a smart techy dude, simply refer to the quick solution for putting YouTube Videos on your iPod below.
For the rest of us, let's get started.
How Do I Get YouTube Videos On My iPod
We are going to divide this process into two easy steps. Step 1 will be putting the YouTube file onto your hard drive. Step 2 will be adding the downloaded YouTube file to iTunes and then syncing this file with your iPod. You can see an overview of the process in the graphic below: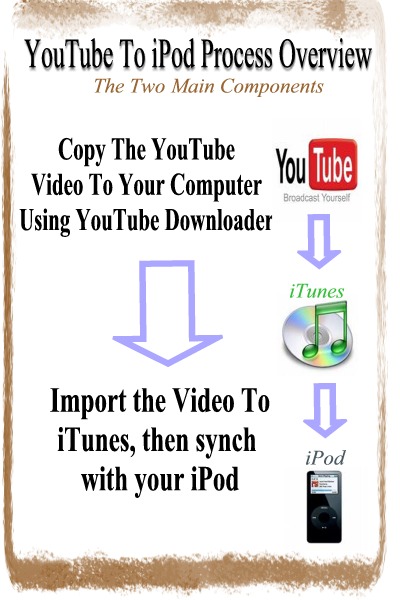 Step 1: Put YouTube Videos on Your Computer
Ok, let's provide an overview of how this process is going to work.
YouTube.com has tons of great videos that we love. However, they are all stored on the Internet and so by default we cannot take these videos with us on our iPods, which is what we want.
Since our iPod does not connect directly to the Internet (unless we are using an iPod Touch), we need to first download the iPod video to our computer.
Fortunately, we already have a page called How Do I Save YouTube Videos On My Computer? This is the first step in converting your YouTube Videos to your iPod–placing the file onto your hard drive.
For the savvy among you, follow these 3 simple steps:
Step 1: Download the 4K Video Downloader.
Step 2: Download & Run the .MSI File That You Downloaded
Step 3: Paste the links of YouTube Videos in the 4K Video Downloader
Otherwise, refer to the post and followed the instructions in more detail.
Putting the YouTube File On Your iPod
If you have ever placed music onto your iPod, this step 2 of putting the YouTube video on your iPod should be very easy. (If you have never placed music on iTunes, then see the article How Do I Download Songs Onto iTunes?)
First, you need to open up iTunes. Then select File | Add File to Library as you see in the picture below. Find the location of your file as noted above and make sure that you choose the .mov file. (You can also choose the .mp4 file if you want to compare the quality of the two YouTube files on your iPod…but do that later.)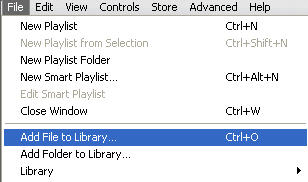 Now, you are almost ready to call yourself a master YouTube to iPod converter! But, of course, we have one more step. Now that you have the YouTube video in iTunes, you still need to transfer this to your iPod by synching your iTunes and your iPod.
As mentioned, you probably know how to transfer music to an iPod and transferring movies is done in pretty much the same way. As seen in the photo below, you need to click your iPod in iTunes under "Devices". Then, you need to ensure that you have selected to synchronize movies because this may not be selected.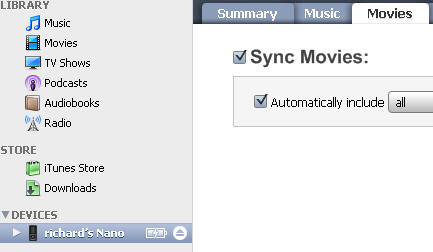 Finally, just right-click your iPod and select Synch.
And, Voila!, you can now answer your original question of how do i get YouTube videos on my iPod? Pretty cool, huh? Want to learn some more great stuff? Check out how to copy DVD to hard drive for free so that you can have all of your favorite movies at your fingertips. Or, learn how to how to connect computer to TV so you can watch these YouTube videos on your LCD TV and your iPod 🙂
Quick Solution: How Do I Put YouTube Videos On My iPod
This section is the quick solution for how to download YouTube videos to an iPod and is meant for those who did not read the above information and felt qualified simply to perform this without detailed instructions.
So, experts, here is your quick YouTube to iPod converter instructions.
Step 1: Download the 4K Downloader.
Step 2: Use this to download the YouTube files which will be put in .mp4 format.
Step 3: Import the video file into iTunes and then synch it with your iPod.
All done. Got it? If not, go back to the top and read the detailed process 😉 Note: You may also be interested in the article how to copy a DVD for free which provides detailed instructions on copying DVDs using free software.
Summary: How To Download YouTube Videos To An iPod
Many people ask the question, "how do i get YouTube videos on my iPod" because, frankly, there are so many awesome YouTube videos and it is great to have them with you on the go for your own entertainment and to share with others.
In this article, we have hopefully transformed you into a YouTube to iPod converter master!
Hopefully, when someone now asks you the question, "how do i put YouTube videos on my iPod?", you will be right there with the answer.
"It's easy," you'll say, "simply download the YouTube files with the YouTube Downloader, convert the files to .mov versions, add them to iTunes, and then synchronize iTunes with your iPod".
Or, tell them to visit ThisIsHowYouDoIt.com to learn how to do it quickly themselves 🙂

Richard Cummings is a writer, traveler, and web content developer. He creates fun, informative how to articles for this site and exercises his creative writing prerogative at ARichIdea.com.

Get your copy of his latest book entitled Obvious Conclusions, stories of a Midwestern emigrant influenced and corrupted by many years living in San Francisco and abroad. It just received its first outstanding review "...reminiscent of David Sedaris or Augusten Burroughs" on Amazon UK.

Latest posts by Richard Cummings (see all)