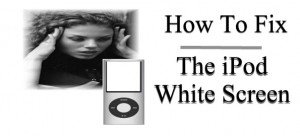 In this article, we are going to look at how to fix the iPod white screen problem that has effected countless iPod and iPhone users.
Imagine, you turn on your iPod or iPhone and are greeted with simply a white screen: no music, no movies, no choices. Your iPod simply gives you a white screen, what some are calling "the white screen of death"!
Here, we will walk you through several scenarios in which this happens, point you to the most common solutions to fix the iPod white screen, and take a look at what the great creator, Apple, has to say (or not say) about the problem.
What Type of iPod White Screen Problem Do You Have
As we look at the iPod and iPhone white screen problem, we might want to acknowledge that all problems are not created equally. Thus, all solutions may not be appropriate for all users.
We basically have two camps of people who get white screens on their iPods and iPhones.
The first group of people are those who have been going along just fine and then all of the sudden they get a white screen of death on their iPod or iPhone. With these people, there is no real precipitous event to the white screen. Here is an example of one of those complaints:
the same thinq is happeninq to my ipod riqht now. i charqed it, and in the morninq,the white screen was on. my music was playinq, then the white screen turned into a black screen. now its back to the white screen. i've reseted it, i've tried all the steps, but nothinq is workinq.
any help ?
the apple loqo won't show either.
Complaints such as these are high in number and many more can be found here.
The second group ARE the precipitous event people. In these cases, the iPhone user was watching his favorite baseball team on TV and, when they lost on a last inning home run, he threw his iPhone against the wall–that's a precipitous event. There are better precipitous events that don't have to be negative, like the time the I dropped my iPhone on the ground as Kim Kardashian walked in front of me in a bikini on the beach. I'll trade that experience for an iPhone white screen experience any day of the week!
Though these two groups are both getting an iPod white screen, there solutions may be very different. For the later group–the precipitous event folks–they may have damaged hardware. If this is your case, you better run and check your date of purchase to find out if your iPod or iPhone is still under warranty. As we read on the Apple FAQ's page, your iPod warranty is typically good for one year, two if you bought the AppleCare Protection Plan.
So, let's take a look at how we can fix the iPod white screen problem and, hopefully, we are not suffering from a deep hardware issue that will require replacement.
Fixing the iPod/iPhone White Screen Issue
While no two problems are usually exactly the same, we can all try these general remedies to get our iPods and iPhones back up and running again. So, let's take a step by step approach. (The steps below address iPods but are generally true for iPhones as well.)
Step 1: Make sure that your iPod does not have the hold switch on. I know, I know, this seems silly to suggest, but I have fallen victim to this a time or two. So, unlock the hold (top left on iPod Nano) and try to work the buttons. EVEN IF THE HOLD WAS NOT ON LOCK, SET IT ON LOCK AND THEN UNSET IT.
Step 2: Make sure battery is fully charged. Just plug it in and come back in a few hours. We'll continue then. Did you know, on recent iPods, the iPod may not even show up in iTunes for 30 minutes if the battery is really low?
Step 3: Reset Your iPod. Don't worry–this will not blow away your music or data, but don't do it when your system is connected to the computer. Don't know how to reset your iPod? Read this How to reset iPod manual to determine how to reset your model. To do this on an iPod Nano, press and hold the Menu and Center (Select) buttons simultaneously until the Apple logo appears, about 6 to 8 seconds. Sometimes it can take multiple tries.
Step 4: Plug your iPod into another USB port on your computer. Frankly, this probably won't work, but we're about eliminating the variables people, so get to it!
Step 5: Restart your computer. Same explanation as #4 🙂
Step 6: Reinstall and upgrade iTunes. You can find the latest version of iTunes here to download and install.
Still got the the iPod white screen? We're getting near the end so hopefully this last step will work to help you fix the iPod white screen problem.
Step 7: Restore your iPod to the Factory Settings WAIT!!! This is going to blow away everything on your iPod–be sure that you have all of the songs, videos, and data on your computer! Don't do this alone because this is a sensitive procedure. Be sure to check out the article Restoring iPod to factory settings and follow their instructions carefully!
How ya doin'?
If your answer is "great!", this is great news indeed.
However, not everyone has been so lucky, but let's not give up hope. If you have performed all of the above steps but you still have the iPod white screen, it's time to contact Apple for support or pop into your local authorized Apple dealer. Fortunately, you will have already performed all of the procedures that the "geniuses" want you to undertake so you will not have to do these again.
Apple's Response to iPod White Screen Issue
Apple has made notoriously few comments in regards to fixing the white screen that occurs on iPods and iPhones. On their support site, a few references are made to the white screen issue such as: If your iPod touch displays a white screen do the following:
1. Turn iPod touch off and turn it on again.
2. If the iPod will not turn off, try to reset it. Press and hold the Sleep/Wake button and the Home button at the same time for at least ten seconds, until either the Apple logo or battery symbol appears. If the battery symbol appears, continue to charge iPod touch until it is fully charged.
3. If that doesn't work, try restoring the iPod. See this article for assistance.
These minor references to the problem on their website do not adequately address this problem that has afflicted so many. Let's simply take a look at a few web sites out there that address the iPod white screen issue.
The iPod White Screen Issue On Various Web Sites
!!!!WHITE SCREEN!!! ON iPod nano: My iPod start with the white screen. What happen ? Battery,screen or frimware fault ? The first white screen appear after lase frimware update (1.1.3). This is "official Apple" forum but there is somebody from "Apple" here ? I 'm very frustrate.
I NEED HELP..
The Apple iPod's White Screen of Death: This article was written in 2006 and still the problem has not been significantly addressed.
iPod help, White Screen? This is a help page from Yahoo Answers where a number of people have complained about the iPod and iPhone white screen.
How To Fix iPod White Screen: Conclusion
I hope that you have learned a couple of things about fixing your iPod white screen issue.
The first is…you are not alone. This problem is had by many people in your exact situation. I hope that this brings you a modicum of comfort.
And, two, I hope that our seven step procedure above solved the problem for some of you. If you followed these steps above, one of two things should happen. One, your fixed the iPod or iPhone white screen issue that you were having. Or, two, you did not fix the problem but you can now contact Apple for support with the confidence that you have done everything on your end to solve the problem.
If you enjoyed this article, you might also like the article How Do I Get YouTube Videos On My iPod because it's extremely cool to have your favorite YouTube videos on your iPod!

Richard Cummings is a writer, traveler, and web content developer. He creates fun, informative how to articles for this site and exercises his creative writing prerogative at ARichIdea.com.

Get your copy of his latest book entitled Obvious Conclusions, stories of a Midwestern emigrant influenced and corrupted by many years living in San Francisco and abroad. It just received its first outstanding review "...reminiscent of David Sedaris or Augusten Burroughs" on Amazon UK.

Latest posts by Richard Cummings (see all)