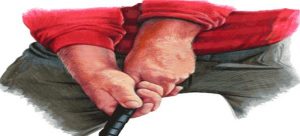 On this How To Grip A Golf Club page, we bring you great how to videos and articles on the proper golf grip.
A correct golf grip is an essential foundation to a perfect golf swing.  With the proper golf grip, you are able to properly square up the golf club at impact, a necessity for hitting the golf ball in the direction that you want.  A fundamentally correct golf grip also helps you generate power in your golf swing.  On the other hand, an improper golf grip detracts from both the power and intended direction of the golf ball.
There is not just one proper way to grip a golf club–there are many!.  The first grip is called the Vardon Overlap and is the most used grip among the best golfers.  This grip is also called the overlapping grip and allows your hands to seamlessly work together.
A variation of the overlapping grip is the interlocking grip, the second most common type of grip.  Others prefer to grip a golf club more like a baseball bat.  For many people this feels most natural.  This type of golf grip is also referred to as the ten finger golf grip.
With so many options on how to hold a golf club, which is the correct golf grip for you?  Well, grab your clubs and test each grip as we present the videos below on how to grip a golf club properly.  The correct way to grip a golf club is unique for each person.  Find out what works for you!
How To Grip A Golf Club Videos
Below, you will find all of the best Internet videos on How To Grip A Golf Club. Each of these videos present the proper golf grip options that you should use to ensure a great golf swing.  Simply click the play link launch the video and improve your golf game. Enjoy the shows!
Video: How to Grip the Club Correctly
I'm a big fan of Michael breed from the Golf Channe! In this short video, he will take us through the essentials of how to grip the golf club correctly so that we can reduce our handicaps and enjoy the game of golf even more. Michael talks pretty fast so you may want to watch it twice…
Video: The Golf Grip Explained
There is more than one type of golf grip. In this video from PGA professional Andy Carter, he explains the different types of grips and the pros and cons behind which one you may want to choose for your particular golf game.
Video: 3 Golf Grip Essentials
While each golf grip is unique, there are positions that you want to have in a every good golf grip. In this video from PGA professional Chris Ryan, we learn the three essentials of a good golf grip.
Video: What Is The Perfect Golf Grip?
In this how to golf video, the gang at me and my golf explore the idea of the perfect golf grip. Is there a perfect golf grip? Or is there a perfect golf grip just for you?
Video: Three Golf Grip Mistakes To Avoid
We've now seen videos of the perfect golf grip. Now let's take a look at a few golf grip mistakes that amateurs make and you want to avoid. In this video by Peter Knight, he presents three golf grip mistakes that you definitely don't want to make.
The Proper Golf Grip: Articles
Many of you may want to read about the proper golf grip instead of watching video on how to hold a golf club. If this is the case, here are several articles that you may enjoy about the correct golf grip.
The Golf Grip: How to Properly Take Hold of the Club: You may enjoy this thorough series from About.com. They illustrate how to hold the golf grip step by step with pictures illustrating where to put your hands.
3 Main Types of Golf Grips: This article illustrates the three different types of golf grips: The Overlapping, The Interlocking, and the 10-Finger grip. Nice picture illustrations are included.
4 Steps to a Solid Golf Grip: This article from GOLF.com shows you four simple steps to a solid golf grip. You may like this article for both its simplicity and professionalism.
How To Grip A Golf Club: Summary
Many people begin the great game of golf without taking a lesson and end up with the wrong golf grip. Fortunately, we now have access to great online resources to learn how to hold a golf club correctly from the beginning.
As we have seen, there are several kinds of proper golf grips from which to choose. The best approach is to test each of them. Pull out your golf clubs and get a "feel" for what the correct golf grip is for you. Once you feel comfortable, you probably have found how to grip a golf club for you!
More Golf Videos
As huge golf fans, we keep up with the latest videos on how to play golf. The Internet today offers us endless free golf tips and we bring the best of them to you on our pages. Be sure to visit our how to play golf for an index of all of our golf pages.
If you have found great videos that we should add to these pages, simply place them in the comments below!

Richard Cummings is a writer, traveler, and web content developer. He creates fun, informative how to articles for this site and exercises his creative writing prerogative at ARichIdea.com.

Get your copy of his latest book entitled Obvious Conclusions, stories of a Midwestern emigrant influenced and corrupted by many years living in San Francisco and abroad. It just received its first outstanding review "...reminiscent of David Sedaris or Augusten Burroughs" on Amazon UK.

Latest posts by Richard Cummings (see all)