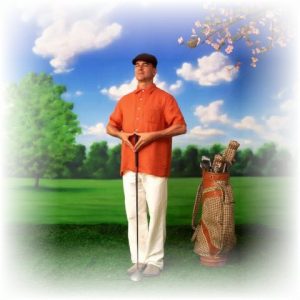 If you are looking to improve the mental side of your golf game, this is the page for you!
We hear that 90% of the golf game is mental. In that case, why do we only put 1% of effort into it.
You know the various circumstances in which you need to improve your golf mental game: It may be the five foot putt to win the day from your buddies, or the par-3 with water all the way until the green, or the critical chip that you chunked last time and that's all you're thinking about this time.
These situations (and many others!) are why we need to improve the mental side of our golf game.
You simply cannot approach the golf course or approach any shot with negative thoughts in your mind. These thoughts are too likely to become a self-fulfilling prophecy and you end up hitting the bad shot that your negative thoughts inspire.
We need to change all that with a better head game on the golf course and that's why we're here today.
Watch the videos below on how to improve the mental side of your golf game to approach every shot and each round in the proper mental state.
How To Improve Your Mental Golf Game Videos
Below, you will find all of the best videos on How To Improve Your Mental Golf Game. I have personally previewed and reviewed each of the videos below to ensure that they will be helpful for the mental side of your golf game.
Simply click the play link to launch the videos. Enjoy the shows!
Video – Golf Mental Game Tips: Eliminate Negativity
Negativity. At one time or another, negativity creeps into the golf games of all of us. In this 2-minute video, Jeff Ritter gives us one simple golf mental game strategy to increase our awareness and think more effectively on the golf course.
Video: Golf Mental Game Lessons
In this 26-minute video, PGA training professional Jeff Ritter shares critical golf mental game strategies that you can implement immediately to lower your scores on the course.
Video: Golf Mental Game Tips
A tough par 3 over water. What's a better place to introduce the mental side of golf as this situation tests most of us? In this three-minute video, Mark Crossfield provides some golf mental game tips that we can use to improve how we think on the golf course.
Video: Tip for The Mental Game of Golf
This 4 minute video comes to us from the PGA tour. In this video, we see some of our favorite golfers, who are very prepared physically, discussing the mental side of their golf games and strategies and tips that they use to improve their play on the course.
Video: Maintain a Strong Mental Golf Game
This video features one of my favorite golf instructors, Michael Breed from the Golf Channel. Michael's golf instructional videos are always short and to the point. In this video (in just 2 minutes and 20 seconds), he shares with us how to keep our mental golf game strong.
Video: How to Build A Strong Mental Game In Golf
In the 7-minute video, PGA instructor Peter Finch shares with us how we can build a strong mental golf game without even leaving our room. This may be the least expensive golf tip that I've heard — I like it.
Video: Rory McIroy on His Mental Game and Dealing With Pressure
As you may know, on our how to golf pages, I often like to end with a professional so that we can see how the truly best in the game do it. Is this 9 minute video, Cara Robinson walks the 14th hole at st. Andrews with Rory McIlroy discussing his mental game and how he deals with and overcomes pressure.
How To Improve Your Mental Golf Game: Conclusion
We hope that you have enjoyed these videos on How To Improve Your Mental Golf Game, a part of our in-depth how to play golf series of pages.
Now, the next time that you have a par-3 tee shot all over water, are you going to approach it with the proper mindset? When you have that short putt to win everything, will you be ready?
For all of these situations, we need to have a strong mental golf game.
It is my sincere hope that the videos above have provided the tips and strategies that you need to improve your golf mental game.
As always, if you would like to add videos to this page, simply place them in the comments below!

Richard Cummings is a writer, traveler, and web content developer. He creates fun, informative how to articles for this site and exercises his creative writing prerogative at ARichIdea.com.

Get your copy of his latest book entitled Obvious Conclusions, stories of a Midwestern emigrant influenced and corrupted by many years living in San Francisco and abroad. It just received its first outstanding review "...reminiscent of David Sedaris or Augusten Burroughs" on Amazon UK.

Latest posts by Richard Cummings (see all)