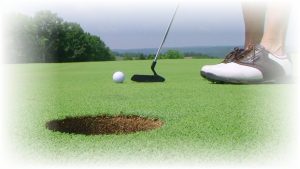 Do you want to learn how to putt a golf ball better and improve your golf handicap. If so, you've come to the right place.
They say "drive for show, putt for dough". In that case, we'll be helping you earn some money today today too!
But think about…what percentage of golf shots are putts? On a par 3? Approximately 66.6% of your golf shots will be putts. And on a par 4? 50%.
You get the idea — putting a golf ball is one of the most overlooked but critically important components of the golf game.
This page you brings you all the best how to putt a golf ball instructional videos, including many putting tips and techniques that will drastically improve your putting.
Want to improve your performance on 50% of your shots? Watch the videos below with putting tips that are sure to improve your scorecard.
How To Putt A Golf Ball Videos
Below, you will find all of the best videos on How To Putt A Golf Ball. I have personally viewed and reviewed each one below.
We have so many choices when we choose our putting style. Thus, as you watch the videos below, some putting tips and strategies may work for you while others may not be suited to your style of putting.
You may also want to grab your putter as you watch the videos to get a feel for whether the particular putting tip meets your unique style.
Let's get to it — simply click the play link to launch the videos. Enjoy the shows!
Learn the Easiest Putting Technique Ever
We always wish golf would be easier for us. So why not begin with the easiest putting technique ever brought to us by PGA Professional Dave Cahill?
Video: Three Simple Putting Tips to Lower Your Score
Phil Kenyon, the world's leading putting coach, brings us three simple tips that we can implement that will drastically improve our putting and lower our golf scores.
Video Golf Lessons — Golf Putting Basics
In this 10 minute video, clay Ballard of Top Speed Golf shares the basics of putting that we all need to employ on the greens.
Video: The Proper Golf Ball Position for Putting
Just as with the golf swing, proper body and ball positioning with putting is extremely important. In this video, PGA professional Todd Kolb shows us how to get the right ball position for our unique putting stroke.
Video: Golf Stroke Putting Tips – The Perfect Technique
Don't think that there's one perfect golf putting stroke? Well, two time PGA teacher of the year Adam Bazalgette put this to the test and answers the question as to whether there is a perfect golf putting stroke technique in this 4 1/2 minute video.
LEARN THE 4 SKILLS OF PUTTING
Chris Ryan provides fantastic golf instructional videos and in this particular video he teaches us the four skills of putting that we need to master to lower our golf scores and beat the competition.
Video: How to Putt The Golf Ball Straight
When we talk about accuracy in the game of golf, there is no place that it is more important than on the greens. In this video, PGA professional Clay Ballard walks us through the essentials of how to putt the golf ball straight…because if you can't do that the ball will not go in the hole.
Simple Golf Tips to Prevent 3-Putting
Ah, the dreaded 3 putt. It's our absolute worst nightmare on the greens! In this 5 minute video, we learn how to stop 3 putting forever with these simple golf putting tips that will eliminate the three putt and improve our golf game.
Video: Putting Tips from Rickie Fowler
If you've explored my how to golf pages, you notice that I will always include a video from a PGA Tour professional where they give us their essential tips. In this video, we are given tips by Rickie Fowler who just gets up to his putts and, without much deliberation, knocks them in. He's one of the best putters on tour and so we need these great tips from Rickie Fowler on how he putt the golf ball.
How To Putt A Golf Ball Conclusion
We hope that you have enjoyed these videos on How To Putt A Golf Ball.
Remember, over half of your golf shots and therefore over half of your golf score, comes from putting. If you can make just four more putts a round that you were not making before, your handicap will drastically improve.
I have personally selected these how to putt videos with putting tips that I think will be beneficial to all — I hope you have enjoyed them as well.
If you would like to add videos to this page, simply place them in the comments below!
More Great Golf Instructional Videos
You can probably tell that I love the game of golf and and so I create these how to golf pages as much for you as I do for me 🙂
If you want to improve your golf game, be sure to enjoy all of the videos on our how to play golf page, including how to drive a golf ball far and how to chip around the greens to lower your golf scores.
Now go play!

Richard Cummings is a writer, traveler, and web content developer. He creates fun, informative how to articles for this site and exercises his creative writing prerogative at ARichIdea.com.

Get your copy of his latest book entitled Obvious Conclusions, stories of a Midwestern emigrant influenced and corrupted by many years living in San Francisco and abroad. It just received its first outstanding review "...reminiscent of David Sedaris or Augusten Burroughs" on Amazon UK.

Latest posts by Richard Cummings (see all)