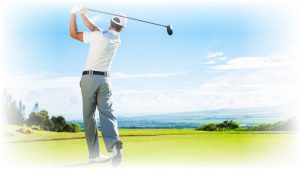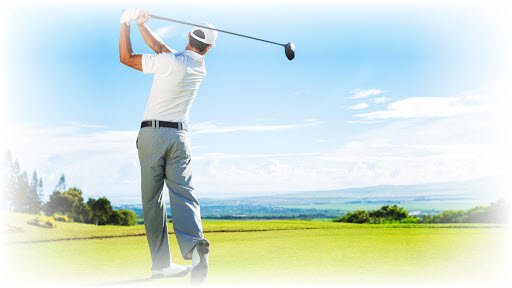 If you want to know how to drive a golf ball straight and far, this page is for you. We have the best free instructional golf driving tips so that you will always know how to drive a golf ball straight and far!
Getting off the tee well is critical. We often hear the great importance of the short game and this is true. However, if you do have the ability to drive the golf ball straight and far, you will never be able to drastically improve your golf game.
Now-a-days, many courses are designed such that only the long hitters survive. Sure, you can play the closer tees…but your friends will not allow that! Plus, with these free golf driving tips, you can now play even long courses confidently.
On this How to Drive a Golf Ball Straight and Far page, we bring you all of the secrets of driving the golf ball. Do you need to be strong? No. Do you need to swing really hard? No. Do you ever watch Kenny Perry play golf on TV? He's 50 years old and drives the golf bar as far as those half his age. The secret lies in the golf driving tips outlined below.
Our goal with this page is to consolidate all of the best Internet videos to answer your one question: How Do I Drive A Golf Ball and compete on these long holes?
Enjoy the how to drive a golf ball videos below and, if you have any that you would like to add, please put them in the comments below.
How To Drive A Golf Ball Videos
Below, you will find all of the best Internet videos providing golf driving tips. If you want hit the ball longer and straighter these, videos, hand-picked and reviewed by yours truly, will get you there.
Simply click the play icon to launch each video. Enjoy the shows!
Video: How To Drive the Golf Ball For Beginners
In this video, Adam Bazalgette, the two-time PGA teacher of the year, will teach beginners how to drive the golf ball. The driver is unlike many other clubs in your bag and Adam will teach you the techniques you need to use to get off the tee with this very important first shot on each hole.
How To Hit The Driver For Beginners
They call the golf driver a big stick! And in this video for beginners you'll learn how to hit the driver a little bit longer and a little bit straighter with a lot more consistency. PGA Professional Chris Ryan delivers these fundamental golf driving tips in 6 minutes that will surely help you shoot lower scores.
3 Driving Tips To Drive The Golf Ball Straight
Just three golf driving tips — that is all it will take for Clay Ballard to teach you how to drive the golf ball straight every time. The 7 Minute video is well worth reviewing to improve your driving off the tee.
Video: The Basics Of Driving A Golf Ball Straighter And Longer
We all want to drive the golf ball straighter so that we stay in the fairway. We also want to drive the ball longer so that we're much closer to the hole and we can wedge into the green. Well, in this video, we are shown the basics of doing both, driving the golf ball longer and straighter.
Driving A Golf Ball: The Perfect Posture And Tee Heighth
When we are trying to drive the golf ball far, we often overlook the most basic concepts like our golf posture. With a good golf posture and the proper tee height, we can make solid contact with the golf ball which will enable us to hit the ball straighter and further on a more consistent basis.
How to Drive The Golf Ball 60 Yards Longer
Let's call this how to golf video "60 yards in 6 minutes". In this amount of time, the gang at me and my golf teach us how to add 60 yards to our drives so that we can get the golf driving distance that we have always wanted.
How To Drive A Golf Ball: Conclusion
We hope that you have enjoyed these videos on How To Drive A Golf Ball.
Today's long courses not only demand that you know how to drive the golf straight, they also mandate that you know how to drive a golf ball far!
At some courses today, par 4 holes are now measuring near 500 yards. We have recently seen the pros play 500+ yard par 4's. We bring you this page full of golf driving tips so that when you step up onto the tee on one of these holes, you will be able to swing naturally and confidently knowing that, finally, you know How to Drive a Golf Ball and compete on these long par 4's.
Note: This video is part of our extensive how to play golf video series, which includes how to grip a golf club and how to swing a golf club among many others. If you find great videos that would be ideal for our golf driving tips page, simply place them in the comments below and we will add them!

Richard Cummings is a writer, traveler, and web content developer. He creates fun, informative how to articles for this site and exercises his creative writing prerogative at ARichIdea.com.

Get your copy of his latest book entitled Obvious Conclusions, stories of a Midwestern emigrant influenced and corrupted by many years living in San Francisco and abroad. It just received its first outstanding review "...reminiscent of David Sedaris or Augusten Burroughs" on Amazon UK.

Latest posts by Richard Cummings (see all)