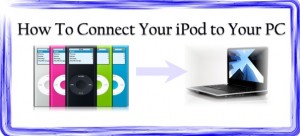 If you have just purchased a new iPod, you may have the question, "How Do I Connect My iPod To My PC?". In this article, we are going to walk you through the painless process of connecting your iPod to your PC.
After learning how to connect your iPod to your PC, you may enjoy our other articles about many cool things that you can do with your iPod including how do you download songs onto an ipod and how do I get YouTube videos on my iPod–this one is extremely cool because it allows you to have YouTube on the go!
But, first things first. Before you can begin enjoying your iPod, you need to learn how to connect your iPod to your PC.
iPods come in many varieties: the iPod Touch, iPod classic, iPod Nano, and the iPod Shuffle. No matter your model, each of these can be connected to your PC very easily. We will teach how to perform this iPod connection with each model, beginning with the iPod Touch an on down to the iPod Shuffle. To jump immediately to your model, simply click the link below:
One note before we get started. Every iPod to PC connection uses free iTunes software to transfer music to and from your iPod and PC. Before you physically connect the iPod and PC, you will want to have this software available. It can be download and installed for free by clicking here.
Connect iPod Touch to PC
After you buy an iPod Touch, your package will include the contents depicted below: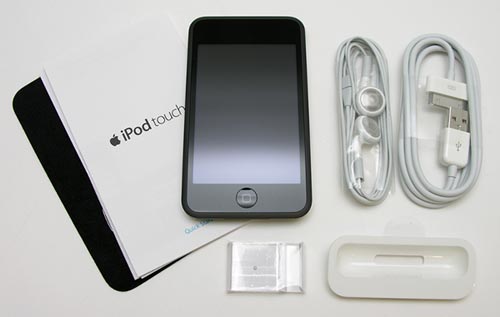 To connect this iPod to your PC, we want to focus on the cable included as we see highlighted in the photo below: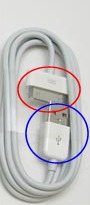 The end with the red circle around it is the end that goes into your iPod Touch. Go ahead and plug that cable into your iPod touch right now.
The part of the cable that you see with the blue circle is the USB connection. This end will be plugged into any available USB port on your PC. (Note that the iPod Touch requires you to have a USB 2.0 port to operate appropriately with your PC.)
Once you have setup this physical connection, you are ready to use iTunes to transfer music (and videos too!) to your iPod. For this, see the article how do you transfer music to an ipod.
Connect iPod Classic to Computer
The iPod Classic is an amazing little device with abundant storage to handle nearly limitless music. In fact, the iPod Classic can hold up to 40,000 songs and 200 hours of video. But, to make all of that happen, you first need to connect the iPod Classic to your computer.
As you will see in the photo below, the iPod classic comes with many of the same contents as the iPod Touch.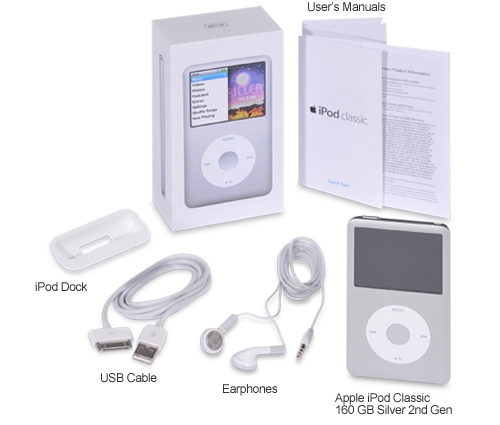 Once again, since our topic is physically connecting the iPod to your computer, we will focus on the cable provided. Let's take a look at the photo below:

As with the iPod Touch, we will take the end that you see circled in red and place that into the available port on your iPod classic. There is only place for this connection and you will typically find it on the underside of your iPod Classic.
Then, we will take the connection circled in blue and connection that end into any available USB port on our computer.
Now, you are ready to use iTunes to put music on an ipod.
Connect iPod Nano to PC
The iPod Nano is a thin little iPod which now has a capacity of 16GB and allows you an abundance of music, videos, and photos. After purchasing an iPod Nano, you receive a package with the following contents: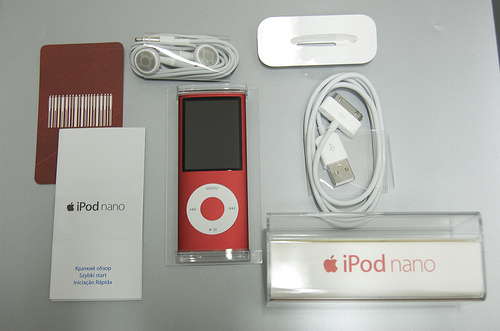 In this example, as with the other iPods, we find the cable that will connect our iPod Nano to our computer as seen below.

Once again, we will take the end that is circled in red and place it in the available port on our iPod Nano. Then, we will plug the other end, the blue end, into an available USB slot on our computer.
After making that connection, we are ready to use iTunes to synch our music on the computer with the iPod Nano.
Connect iPod Shuffle to PC
Finally, we get to the iPod Shuffle. This is a great, light, and inexpensive iPod for those on the go. It is a great iPod for the workout enthusiast. Without a screen, the slogan for the the iPod Shuffle is "life is random" because you can load up all of your songs and here them in a "shuffled", random sequence.
When you buy an iPod Shuffle, you will receive the contents depicted in the photo below: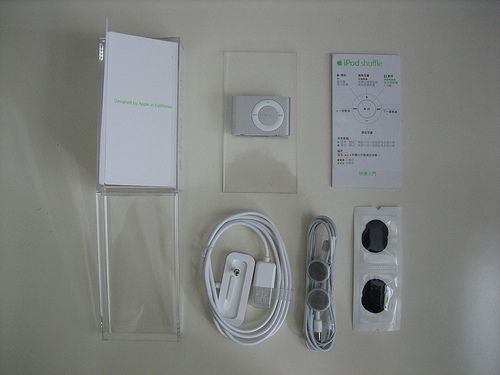 You may notice that the iPod Shuffle connects somewhat different to your computer than the iPod's mentioned above. This is because the iPod shuffle gets placed into a dock to synchronize with the computer rather than having a cable that plugs directly into the Shuffle.
Let's take a look at an "enhanced" version of the connection below: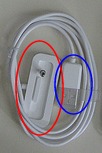 Where you see the red circle is where you are going to place the iPod Shuffle. Coming out of this iPod Shuffle dock, you will find a cable. This cable is the USB end that will be placed into an available USB port on your computer.
Once that is done, you are now ready to use iTunes to begin putting your music onto your iPod.
Connecting other iPod Shuffles
Though most people have the iPod Shuffle shown above, there are actually 3 different versions of the iPod Shuffle as seen in the photo below: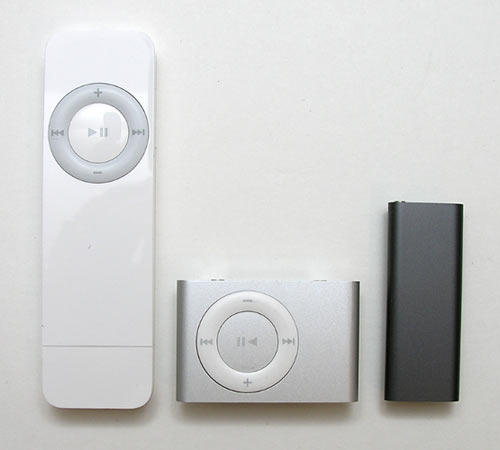 The instructions above are for the middle model. On your left, you see the original iPod Shuffle. This model connects directly to the USB port in your computer simply by removing the bottom "cap" to expose the USB port.
The latest iPod Shuffle model connects to your computer through the cable provided. This is a unique setup though because the connection is through the headphone jack on your iPod Shuffle and then the other end goes into the USB port on your computer as shown in the photo below: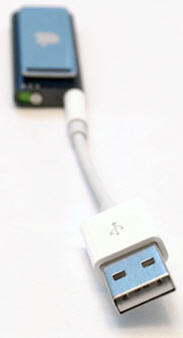 Many people do not particularly like the configuration as the new iPod Shuffle does not work with regular headphones.
How Do I Connect My iPod To My PC: Summary
Connecting your iPod to your PC is not a difficult task. However, if you have never done it, it can be something that you need to get familiar with.
In this article, we have shown you how to connect all types of iPods to your PC. As you see with all of them, one end plugs into the USB port on your computer while the other end connects to your iPod. As we see, this iPod connection varies, especially with the new iPod Shuffle, where the connection takes place through the headphone jack.
Regardless of your iPod model, remember to install iTunes before making your physical connections.
After you have connected your iPod to your PC, you will probably want to read how do you download songs onto an ipod and our very popular article about putting YouTube videos on your iPod.
We hope that we have answered your question how do i connect my iPod to my PC?. Be sure to stay tuned to ThisIsHowYouDoIt.com for all of the many great how to videos to come!

Richard Cummings is a writer, traveler, and web content developer. He creates fun, informative how to articles for this site and exercises his creative writing prerogative at ARichIdea.com.

Get your copy of his latest book entitled Obvious Conclusions, stories of a Midwestern emigrant influenced and corrupted by many years living in San Francisco and abroad. It just received its first outstanding review "...reminiscent of David Sedaris or Augusten Burroughs" on Amazon UK.

Latest posts by Richard Cummings (see all)