Many people want to know, "How Do I Copy DVD To iPod or an iPhone?".
This is much easier than you think. We will show you how to copy a DVD to an iPod in 3 simple steps…and it's all FREE.
There is no great mystery as to why people want to put DVDs onto an iPhone or iPod. We want all of our technologies to be portable and DVDs are, frankly, not all that portable.
Great DVD Articles & Resources
If you are going on a vacation or a business trip, and you are a movie fan like I am, you do not want to have to lug 10 or 15 DVDs with you in your luggage.
There are a couple solutions to this. One is that you can copy DVD to hard drive so that you will have all of your DVDs on your laptop. This is a great solution if you have your laptop with you at all times because it has more space than your iPod or iPhone does. It is also a great way to backup your DVDs.
Another great solution–and extremely portable–is to put your DVDs on your iPod or iPhone and that is what this article is about.
Instead of having your laptop with you, you can simply have your iPod and watch all the movies that your iPod can hold in an ultra portable fashion. Very cool!
So, let's get started:
(Note: As always, for you techie experts, we present the Quick Solution: DVD to iPod below if you want to skip straight to it).
How To Copy a DVD to an iPod: Overview
As we mentioned in the first sentence, the process of copying DVDs to your iPod is much simpler than you can imagine and we are going to accomplish it in 3 easy steps.
From a graphical perspective, the three DVD to iPod steps are as follows: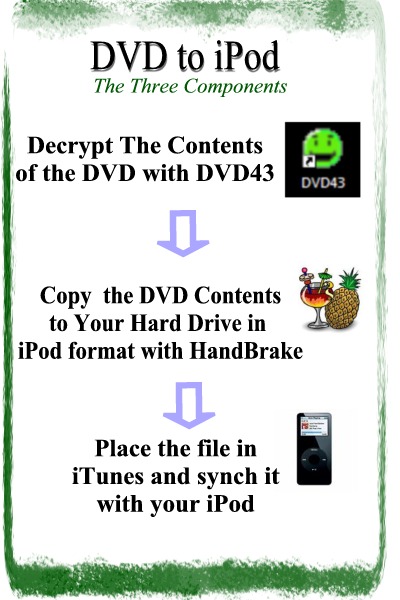 DVD to iPod: The Three Steps
Ok, let's walk you through how to do this step by step. Learning this process does not take long at all. The only part that takes some times is the copying of the DVD data.
Though I have done this numerous times, I will follow along with you and lead by example. I will be putting my copy of The Legend of Bagger Vance, a great golf movie, on my iPod. What will you be putting on? 😉
DVD to iPod: Step 1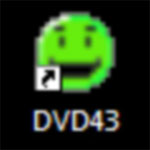 Download and install DVD43: The reason that we have to do this is because DVDs are encrypted and this program decrypts the DVDs. You want to make sure that you have the "rights" to copy a particular DVD to your iPod. If you own the DVD, this should be no problem.
DVD43 is a beautiful program because, once you install it, you will never have to deal with it again: it runs by itself. As you see in the picture below, DVD43 puts an icon in your taskbar. The icon is yellow if there is no DVD in the drive and green is there is a DVD in the drive.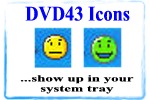 DVD to iPod: Step 2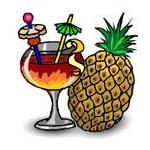 Download and Install HandBrake: HandBrake is a utility that allows us to copy the data from the DVD to our hard drive and put in a format that we want. In this case, that format is the iPod video format.
Once you have installed HandBrake, go ahead and put your DVD in the drive (make sure the little DVD icon in the system tray turns green) , and then run HandBrake (Start | All Programs | HandBrake | Handbrake).
Now, the HandBrake interface may look a little daunting at first, but do not fear…I will walk you through this process.
As you see in the picture below, you are going to first select the "Source". Your source in the case will be the DVD. So, go ahead and select it.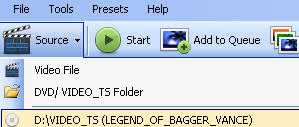 In the destination tab, you want to note the location that your movie will be placed or go ahead and choose a new location. Your destination window should look something like mine in the photo below:

Finally, over on the right hand side of the screen, select iPod. This step is very important as this will allow HandBrake to create a file from the DVD that can be played on your iPod. Your selection should look like the one in the photo below.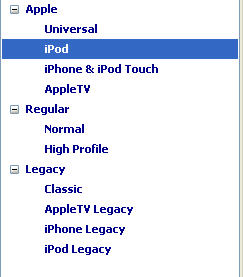 That didn't take long, did it?
Now, all we need to do now is hit the Start button and the process will begin.
How long will it take? Well, my system is a system with 2GB of ram and a pretty good processor. It tells me the process will take 44 minutes. Let's see…I started at 12:31…and finished at 1:01pm. The process took 30 minutes.
As you can see the photo below, we now have the file on our hard drive and it is about 800MB in size (you can use this number to calculate how many movies that you can place on your iPod at one time).

DVD to iPod: Step 3
In step 3, we are going to place the file that was just created into iTunes and then synch our iTunes with our iPod. If you know how to put music on an iPod, this process will be the easiest of them all.
So, first, we are going to add the DVD movie to iTunes. To do this, we run iTunes and then choose File | Add File to Library as you see in the photo below: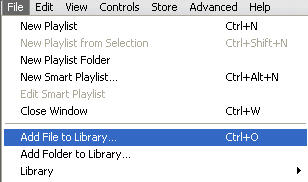 Now, our final step is to synchronize our iTunes with our iPod as you have done many times with your music. Before doing this, ensure that you have movies selected to synchronize as you see in the photo below: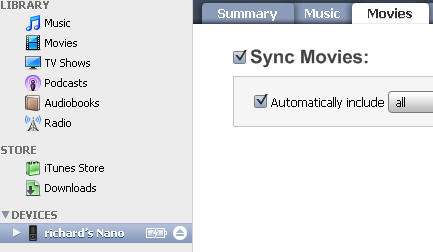 Now, just click on your iPod and select the synch button. After the synch is complete, voila! You now know how to put DVDs on your iPod.
Quick Solution: DVD to iPod
This section is for the techie crew who skipped everything above and just wants a quick solution with no graphics.
Step 1: Install DVD43. This will install and run in the background. It decrypts your DVDs.
Step 2: Install and run HandBrake. HandBrake copies the DVD to your computer in iPod format. Make sure to choose the iPod format within HandBrake. You need not fiddle with the other features unless you want. Click start to create the iPod file.
Step 3: Import the file into iTunes and then synch it with your iPod.
That's it, experts. If you want details, refer to the whole article above. Now, you may want to know how to copy DVD to DVD for free…
Copying A DVD To An iPod: Summary
Initially, it may seem that taking a DVD and putting it on your iPod would be a difficult task.
We have tried to make it as easy as possible with this three steps process. And, on top of that, we copied a DVD to our iPod for free without having to pay for any software. Pretty cool, huh?
Now, when your friends ask you, "How Do I Copy DVD To iPod?", you will be able to respond confidently:
You simply install and run DVD43, then copy the DVD in iPod format to your computer using HandBrake, put that file into iTunes, and synch your iPod!"
Piece of cake, no?
I hoped that this article has helped you. Those who enjoyed this page have also been reading How Do I Get YouTube Videos On My iPod which is a very similar process.

Richard Cummings is a writer, traveler, and web content developer. He creates fun, informative how to articles for this site and exercises his creative writing prerogative at ARichIdea.com.

Get your copy of his latest book entitled Obvious Conclusions, stories of a Midwestern emigrant influenced and corrupted by many years living in San Francisco and abroad. It just received its first outstanding review "...reminiscent of David Sedaris or Augusten Burroughs" on Amazon UK.

Latest posts by Richard Cummings (see all)