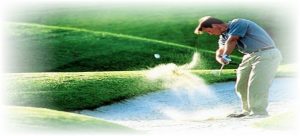 Want to know how to hit a sand shot in golf? How to escape a sand trap? How to get the ball up and down from the sand? We've got you covered with the best golf instructional videos that will teach you how to hit the dreaded bunker shot.
Even after you have learned how to swing a golf club, you have probably realized that hitting shots from the bunker is a slightly different animal.
You often have to position your club and body very differently on a sandshot than on other shots.
Golf pros get up and down out of a sandtrap with ease. You may have even noticed that sometimes professionals intentionally will hit the ball into the bunker because they are so good at getting it up-and-down from the sand.
However, for an ordinary golfer, a sand trap may turn a probable par into an 8, which is why we need the help from these golf instructional videos.
Watch the how to videos below to learn how improve your sand shot and finally learn how to escape a sand trap or bunker with ease.
How To Escape a Sandtrap or Bunker in Golf: Videos
Below, you will find all of the best videos on How To Escape a Sandtrap or Bunker in Golf. I have personally viewed and reviewed each of these videos so that I have a high degree of confidence that they will be helpful to your bunker game.
Simply click the play links to launch the videos. Enjoy the shows!
Video: The One Simple Bunker Lesson You Need
In this how to escape a sand trap video, PGA teaching professional Andy Gorman gives you one simple bunker lesson that you will need to get the ball up and down from the beach.
Golf Instruction Video: How to Play Bunkers from Hard or Soft Sand
Sand comes in many forms. So when we inadvertently hit the golf ball in the sand, we need to know how to play out of all types of bunkers, from all gradations of sand. In this 12-minute video, golf instructor Danny Maude reveals the secrets of how to play out of all types of sand.

Simple Techniques To Get Out Of A Sand Bunker In Golf

Keep it simple — that must be one of my favorite refrains when it comes to golf instruction. In this three-minute video, we learn the simple techniques to get out of a sand trap in golf and get the ball up and down with frequency.

Video: How to Hit Out of a Sand Trap
PGA member Jay Golden shares with us his simple strategies of how to hit out of a sand trap in this 2-minute video.
The Golf Bunker Shot Video: 3 Really Easy Tips To Escape Sand Traps
In this video with PGA teaching professional Rick Shields, we learn three really easy tips to get out of bunkers that we can take to the golf course today.
Professional Tips from Stuart Appleby: Getting out of a Sand Trap
What is better than golf tips from true PGA professionals? Well, in this video we have PGA professional Stuart Appleby, who once shot a 59, share his tips on getting out of sand traps.
Tiger Woods & Jason Day Share Their Bunker Techniques
What is better than one PGA professional sharing their tips about how to escape a bunker? How about 2? In this video we have Jason day and Tiger Woods, arguably the greatest golfer of all time, share their secrets of escaping the sand and getting the ball up and down nearly every time.
How To Escape a Sandtrap or Bunker in Golf: Conclusion
I want to share a sand trap story with you that I recently experienced.
It was a par 5 and, because sometimes I'm able to hit the ball a pretty good distance with my driver, I got greenside in two shots on a 540 yard par 5.
The competition was envious but when we arrived at the green they kind of laughed: "Ah, you're in the bunker…we're still in the hole!"
They suggested that they were still in the hole because they've seen my bunker play. I was incensed thinking…I'm going to get this ball up and down, birdie this hole, and win all the money.
So what happened?
I hit the ball out of the bunker and it landed in the front yard of a house out of bounds. Now, I'm hitting five out of the bunker and it took me three shots to get down so I end with a 7 instead of a 4 and lost the whole.
Moral of the story: Bunker play is so important — don't neglect practicing it!
After watching these videos, my bunker play has improved measurably. And, best of all, it's free to practice at my local range.
I hope that your bunker play is similarly improved after watching these videos on How To Escape a Sandtrap or Bunker in golf.
If you would like to add videos to this page, simply place them in the comments below and I'll add them to the page if they're awesome!

Richard Cummings is a writer, traveler, and web content developer. He creates fun, informative how to articles for this site and exercises his creative writing prerogative at ARichIdea.com.

Get your copy of his latest book entitled Obvious Conclusions, stories of a Midwestern emigrant influenced and corrupted by many years living in San Francisco and abroad. It just received its first outstanding review "...reminiscent of David Sedaris or Augusten Burroughs" on Amazon UK.

Latest posts by Richard Cummings (see all)