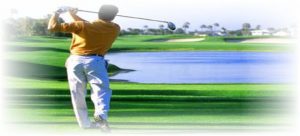 On this page, we focus on how to correct a hook or a slice in your golf swing.
You don't want to, but most of you do it. What is it? You either hook or slice the golf ball. You don't hit it straight with the consistency that you would like.
At some point, when you were learning how to swing a golf club, you picked up some bad habits. And, today, we want to correct those bad habits!
We have all heard that a fade in golf is a planned slice of the golf ball and that drawing the golf ball is a planned hook.
Well, for most of us amateurs, we are not planning our slices nor our hooks. If so, we would end up in the fairway and yet we find ourselves somewhere deep in the rough to the left or to the right.
Today, we are going to correct that because hooking or slicing the golf ball will have you off the fairway and out of the hole.
So we are bringing you these how to videos to learn how to correct your slice or your hook and other common and swing errors.
Golf: How To Correct A Slice or a Hook Videos
Below, you will find all of the best videos on How To Correct A Slice or a Hook. I have personally previewed and selected each of these videos because I think they will be beneficial for your golf game.
Simply click the play link to launch each video. Enjoy the shows!
Video: Completely Fix the Slice in your Golf Swing
In this 4 minute video, PGA teaching professional Rick Shiels will show you how to completely fix your slice.
Video: How To Fix A Slice With A Driver (So Simple!)
When you find yourself slicing your driver, this video is for you. PGZ instructor Eric Cogorno will give you the tools you need to hit your driver straight and get rid of that dreaded slice.
Video: 3 Simple Tips To Stop Your Slice
Simple is good and in this video we are given three simple tips by PGA professionals Andy Proudman and Pierce Ward to stop the slice in our golf swing for good.
Video: How To Fix The Hook In Your Golf Swing
Having problems hooking the golf ball? Not after you watch this video! Golf instructor Jim Roy gives you the techniques to eliminate the hook in your golf game.
Golf Instructional Video: How to Get Rid of the Hook
I'm a big fan of the Golf Channel's Michael Breed and in this three and a half minute video he teaches us the techniques we can use to get rid of the hook in our golf swing.
Video: How To Cure the Hook In Your Golf Swing For Good
When you want to stop yanking the ball to the left for good, forever, and for always, this 11-minute video from PGA professional Eric Ccogorno will teach you just that — how to cure your hook for good!
Video: PGA Tour Professional Rickie Fowler on How To Fix Your Drive Slice
You all probably know by now that I'm a huge Rickie Fowler fan and also that I end most of my video pages with instructions from a PGA Tour professional. So what better video to choose than one from Rickie Fowler as he teaches us how to fix the slice in our golf swing!
How To Correct A Slice or a Hook: Summary
I hope that you have enjoyed these videos on How To Correct A Slice or a Hook.
Of course, real life is not like the show Heroes. You cannot just watch these videos and all of the sudden be hitting the golf ball exactly as you would like.
You have to practice. You have to work on getting rid of that slice or hook using the techniques that you have learned in one or more of the videos above.
After you have hit the range for a while, as long as your golf mental game is intact, you should be able to now hit your golf shots the way you would like without worrying about slicing or hooking the golf ball.
I'm confident that you can do just that!
For more great videos on how to play golf, visit this page.
If you would like to add any videos to this page, simply place them in the comments below and I'll add it if it's a good one!

Richard Cummings is a writer, traveler, and web content developer. He creates fun, informative how to articles for this site and exercises his creative writing prerogative at ARichIdea.com.

Get your copy of his latest book entitled Obvious Conclusions, stories of a Midwestern emigrant influenced and corrupted by many years living in San Francisco and abroad. It just received its first outstanding review "...reminiscent of David Sedaris or Augusten Burroughs" on Amazon UK.

Latest posts by Richard Cummings (see all)