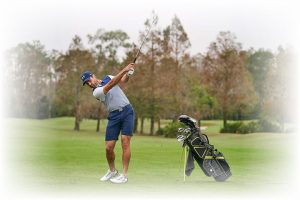 Would you like to improve your iron play on the golf course? If so, this page is for you. We have the best golf instructional videos on how to hit your irons shots with greater distance, direction, and consistency.
Your approach shots between 100-200 yards are critical for a great golf score.
It happens often. You're on the tee and you've hit a beautiful drive and now you're faced with an iron shot of about 180 yards and you have zero confidence in your ability to hit it tight.
Why is this? The answer is that you have not mastered your golf iron shots and it's time to do.
If you do not have the ability to hit quality iron shots on the golf course, you will nullify the other positive aspects of your game like hitting great drives and putting beautifully. If you know how to drive the golf ball beautifully, or putt like Ben Crenshaw, it will not matter near as much if you cannot get the ball near the hole with your iron shots.
And that's why we're here — to improve your iron game!
Watch these how to videos to improve your golf iron play on the golf course.
Instructional Golf Videos: How To Hit Your Irons
Below, you will find all of the best videos on How To Hit Your Irons. I have previewed and reviewed all these videos to ensure that they will help your game.
Simply click the play link to launch the videos. Enjoy the shows!
Video: How To Hit Irons For Beginners
In this video, Adam Bazalgette, two-time PGA teacher of the year, teaches how to hit irons for beginners. Adam addresses many of the mistakes amateurs make and he provides techniques and tips to improve their iron play.
Video: 2 Simple Tips for Consistent Iron Shots in Golf
In this video which runs just under 5 minutes, we will learn how to hit more consistent iron shots and have better contact with the ball using these two simple tips.
Video: Golf Tips and Strategies To Strike Your Irons Pure
Purity? Purity in golf is when you make contact with the ball and it sounds so sweet off the clubface that it is music to your ears. It's something that pros do nearly all the time and amateurs, well, unfortunately we don't do it with very much frequency. However, after watching this video, you'll have the best golf tip to strike your irons pure every time.
Video: 3 Drills To Learn How To Strike Your Irons Pure Like A Tour Pro
Continuing on with the theme of purity in our iron shots, here we have a video from PGZ instructor Matt Walter that provides us with three drills to hit our irons purely just like the pros do.
3 Surefired Tips To Hit Better Iron Shots Consistently
You know how it feels when you hit your iron shots fat or thin or perhaps you top them. In this 11-minute video, Matt Fryer provides us three simple golf tips so that we do not make those mistakes anymore when we are striking or irons.
Video: Learn How To Hit Your Irons Pure Every Time!
How about hitting your iron shots straight and far every time, with a consistency that you've never had? In this video, Clay Ballard, a PGA teaching professional, gives us the five important fundamental keys to strike our irons just the way we want to.
Video: The Brest Drill For Great Iron Shots in Golf
Practice this one drill to hit great iron shots every time!
Video: Phil Mickelson on How to Shape Your Iron Shots
Ah, my man Phil. As you all know, I like to end each page with a video from a professional golfer. In this case we have my man Phil Mickelson who shows us how to shape our iron shots only like he can.
Golf: How to Hit Your Irons Conclusion
Well, there you have it, a page full of videos showing you tips and strategies to improve your golf iron game.
Are you ready to go out and practice these new techniques with your irons?
If you put in the time, you will lower your handicap.
You'll be faced with that 180-yard shot in the middle of the fairway and now you'll have positive golf thoughts going through your head and you'll be able to strike the ball so it lands on the green near the pin. What will happen then?
And then one putt for birdie!
We hope that you have enjoyed these videos on How to Hit Your Irons. If you would like to add videos to this page, simply place them in the comments below!

Richard Cummings is a writer, traveler, and web content developer. He creates fun, informative how to articles for this site and exercises his creative writing prerogative at ARichIdea.com.

Get your copy of his latest book entitled Obvious Conclusions, stories of a Midwestern emigrant influenced and corrupted by many years living in San Francisco and abroad. It just received its first outstanding review "...reminiscent of David Sedaris or Augusten Burroughs" on Amazon UK.

Latest posts by Richard Cummings (see all)